About Hersonissos, Greece
Hersonissos is a town in the north of Crete. It is a seaside resort that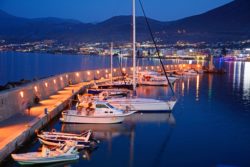 is officially the Port of Hersonissos in distinction to the village of Upper Hersonissos, which lies further inland. Now this port town is known as Old Hersonissos. Hersonissos is approximately 25 km from Heraklion.
At the modern site of Hersonissos is the site of the ancient town of Chersonesos. Chersonesos was an important seaport from Classical Greece through the Byzantine times. It served the city of Lyttos. In ancient times, Chersonesos was important to the Roman province of Creta et Cyrenaica (a province of the Roman Empire comprised of the island of Crete and the region of Cyrenaica) and would become a Christian bishopric, a suffragan of Gortyna. The names of some of these bishops are listed in extant documents. After the Venetian conquest of Crete in 1212, existing dioceses, including Chersonesos, were administered by Latin Church bishops. Today, Chersonesos is no longer a residential bishopric, but listed as a titular bishopric.
The area of Hersonissos is notes for its prehistoric archaeological finds. One kilometer from Hersonissos, on the coast, there was a temple dedicated to the goddess Britomartis. Britomartis was a goddess of mountains and hunting. She was primarily worshipped on the island of Crete.
As a resort area in Crete, Hersonissos offers a lot to its visitors including many beach, some with Blue Flag status, which is a certification by the Foundation for Environmental Education (FEE) that a beach means its stringent standards. Also in the area is the only golf club on the island, an aquarium, the Labyrinth Theme Park, and the Dinosauria Park.
Administrative Region for Hersonissos, Greece
Crete
Area of Hersonissos, Greece
Municipality: 272.2 km2 (105.1 sq mi)
Municipal Unit: 71.0 km2 (27.4 sq mi)
Population of Hersonissos, Greece
Municipality: 26,717
Municipal Unit: 8,262
Top Attractions in Hersonissos, Greece
Labyrinth Theme Park – Located in the hills above Hersonissos. The theme park celebrates Crete's Minoan culture. In addition to the labyrinth you can play mini-golf, ride quads, and have a snack at the café.
Aquaworld Aquarium – If you love marine life, you'll want to visit Aquaworld. The aquarium also features the Reptile Rescue. Learn about the sea life and reptiles and even touch or feed them.
Lychnostatis Open Air Museum – Located by the seaside of Hersonissos. Museum has four main collections: nature and flora collection, ethnographic collection, art collection, and pre-industrial technology collection. Am amazing look into Cretan life.
Star Beach – A beautiful sandy beach. The perfect spot to swim and lounge in the sun. Water sports, a spa and massage center, and great view of the ocean make this a beach worth visiting.
Potamos Beach – Located 10 km from Hersonissos. A sandy beach with clear water. Cafe nearby with good food and drinks.
Acqua Plus Water Park – Just a few minutes from Hersonissos. The first water park in East Europe. Features water slides, a lazy river, and more.
BELOW ARE INTERESTING ARTICLES ABOUT HERSONISSOS, GREECE: