About Piraeus, Greece
The city of Piraeus is located within the urban area of Athens. It lies along the east coast of the Saronic Gulf. Early Piraeus was known as Greece's Emporion.
The city of Piraeus was largely developed in the 5th century BC when it served as the port city of classical Athens. For a while, the city would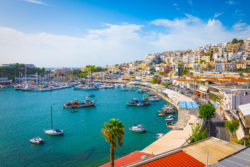 prosper, thanks to its port. The creation of the city was the brainchild of two statesmen named Pericles and Themistocles. They would build the defensive Long Walls, which were to protect the road to Athens and secure the port. During the late 5th century, when the Peloponnesian War occurred, the Spartans became the first to destroy parts of the wall. They were rebuilt soon after. It was at this time that the Temple of Aphrodite and the Skevothiki of Philon were established. The next to destroy parts of the Long Walls would be the Romans followed by the Goths.
When Piraeus was taken by the Ottomans in 1456, it became known as Aslan Liman or "Lion Harbour." The Piraeus lion was looted by Francesco Morosini in 1687. It was taken to the Venetian Arsenal where it still stands today. Under Ottoman rule, the city of Piraeus was deserted except for the monastery of Saint Spyridon and the customs house. The port would be used only occasionally at this point. Though a number of Athenians owned land, they did not live in the area. In 1792, people were brought from Hydra in an attempt to revive the city. This wasn't successful. Nor was the second attempt in 1825 by bringing people from Psara. It wasn't until 1829 that restarting the city as a small town was successful.
The Port of Piraeus is the chief port in Greece, the largest passenger port in Europe, and the second-largest in the world.
Administrative Region For Piraeus, Greece
Attica
Area Of Piraeus, Greece
Urban: 50.417 km2 (19.466 sq mi)
Municipality: 10.865 km2 (4.195 sq mi)
Population Of Piraeus, Greece
Urban: 448, 997
Municipality: 163, 688
Top Attractions In Piraeus, Greece
Archaeological Museum of Piraeus – A one-room museum. Learn about the history of Zea and Piraeus. Beautifully laid out exhibits.
Church of Saint Nicholas – Greek Orthodox church. Beautiful stone work and paintings to explore. Located in the center of the city.
Piraeus Lion – Located at the harbour. A white marble statue. A well-known landmark of Piraeus.
Museum of Olympiacos – Founded in 1925. The largest multi-athletic organization in Greece. The museum is located in the football stadium.
Hellenic Maritime Museum – Located next to the Piraeus marina. Collections of the Independence War and World War I and II. Artifacts include: uniforms, medals, weapons, and more.
Electric Railway Museum – Established in 2005 in the former post office in Piraeus Railway Station. Displays photographs, 200 small items, and 3,000 books, leaflets, and other documents.
BELOW ARE INTERESTING ARTICLES ABOUT PIRAEUS, GREECE: