Orthodox Saint Simeon History and Name Day Information
Written by Greek Boston in Greek Orthodox Religious Information Comments Off on Orthodox Saint Simeon History and Name Day Information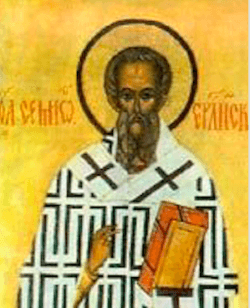 In the Greek Orthodox Church, name days are an important tradition. The vast majority of Orthodox Christians have been named after the saints and because of that, they celebrate their name days. In some Orthodox countries, such as Greece, a greater importance is placed on the name days than the individual's birthday. This shows how important the lives of the saints are to Orthodox Christianity.
Saint Simeon, also referred to as the Apostle Simeon (Symeon), is one of the seventy apostles of the Orthodox Christian Church. His feast day is celebrated on April 27th. On January 4th of each year, Simeon is honored together with the rest of the Seventy. Those who are named after Simeon, or Symeon, can celebrate their name day on either of these days. Here's more information about this Saint:
About Saint
Simeon
Saint Simeon (Symeon), is referred to by his longer name of the Apostle and Hieromartyr Symeon the Kinsman of the Lord. This title reflects exactly how he served the Lord. He eventually became a bishop in the early Christian church, and he was martyred during his time as a bishop.
He is officially listed as the second bishop of Jerusalem. In the church hierarchy, Saint James is listed as the First Bishop, and Saint Simeon is always listed as the second in line. In other words, he was Saint James' successor. James was martyred some time around 70 A.D. and Simeon took over the position sometime after that. Eventually, martyrdom would be Simeon's fate, as well. However, at the time, Simeon, who was a contemporary to James, managed to avoid getting killed during the time when James was martyred. Instead, he led many of the Christians to safety.
It is unknown exactly when Saint Simeon was born, but we do know that it was in the 1st Century A.D. He was born in Galilee, which was part of Judea, and died somewhere in between 107 A.D and 117 A.D as a martyr. Therefore, we know that he had to be born sometime in that first Century.
Hymn of the Saint Simeon (Symeon)
Not all of the Seventy Apostles have their own hymns, but Simeon (Symeon) actually does. Here are the words, translated into English:
Troparion (Tone 1) 
We praise you as a kinsman of Christ,
A great hierarch and a steadfast martyr, O Symeon,
Who destroyed deceit and kept the faith;
Wherefore celebrating now your all-holy memory,
Through your prayers we receive forgiveness of sins.
Kontakion (Tone 4) 
Having the eloquent Symeon as a magnificent star,
The Church is enlightened and cries:
Rejoice, O precious crown of the martyrs!
Kontakion (Tone 2) 
As one who had become a citizen of Zion on high,
You were ordained to the throne of Zion below.
You guided your flock to the heavenly sheepfold
And were crucified for Christ,
Imitating his passion, O Symeon
Saint Simeon's name day is on April 24th of each year and he is also honored on January 4th with the rest of the . Visit the Name Day page for more information about other Orthodox Christian name days.
Sources:
Orthodox Wiki – Apostle Symeon – Also Image Source
Wikipedia – Simeon of Jerusalem
Categorized in: Greek Orthodox Religious Information
This post was written by Greek Boston