About the Archaeological Museum of Paros
Written by Greek Boston in About Paros, Greece, Greek Travel Guide Comments Off on About the Archaeological Museum of Paros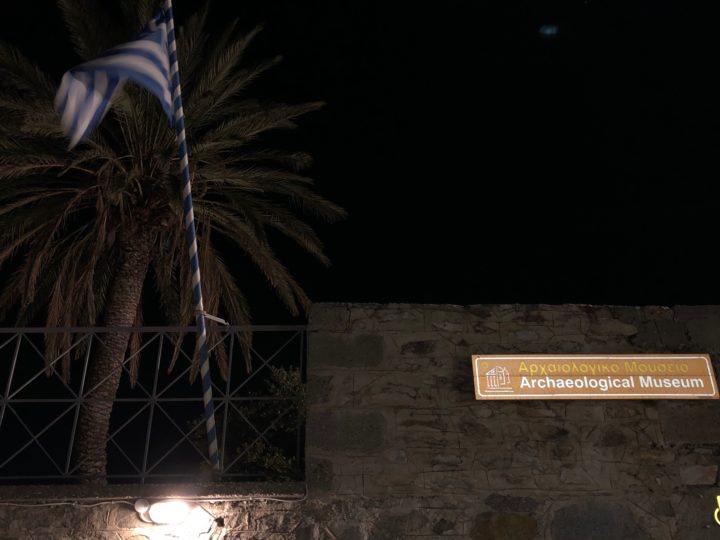 Paros is one of those pristine Greek islands that draws in visitors from all over the world. While not as popular as some of its neighbors, Paros is every bit as interesting and spectacular. When you're not lounging on one of its gorgeous beaches, you should consider seeing some of the sites!
The Archaeological Museum of Paros is one of those places. Founded in 1960, the mission of this museum is to house important artifacts, many of which originated on the island. This is a great place to learn about some of the history of not only the island, but of Greece as a whole.
This museum also gives you the chance to go back in time. Through the sculptures, small items, and architectural pieces, you get an idea of how this area looked during its heyday as one of Europe's greatest civilizations. When you visit, you will notice that the museum is broken up into several halls. Each hall has different exhibits to enjoy. Here's more information about them:
Hall A
Hall A is where the Archaic and Classical sculptures from various artists are housed. The most impressive of these is figure of Gorgon, a mythical monster. Made in marble, the completely preserved structure dates back to the sixth century BC.
Another important sculpture you'll find in Hall A is one of Nike, the Greek goddess of speed and strength. Dating back to 470 BC, the marble figure is missing its head and arms. Yet, it shows the level of craftsmanship during that period of time.
Hall B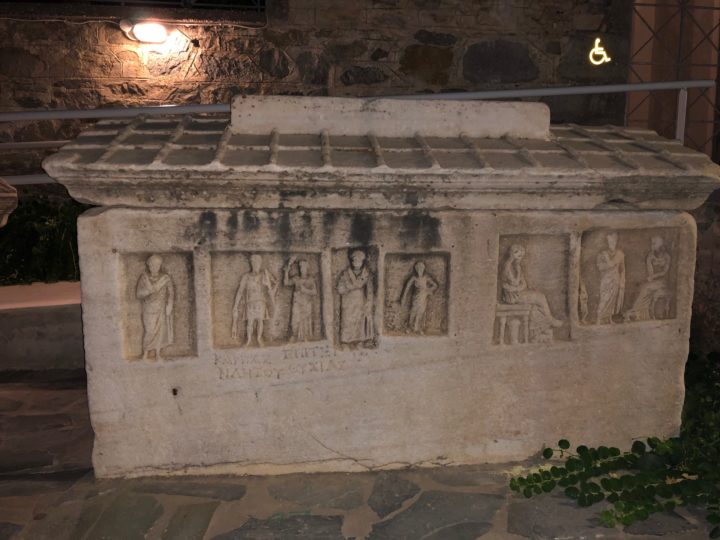 Hall B is made up of smaller findings during excavations. The miniature pottery and sculptures in this hall are from various eras. These include Neolithic, Early Cycladic, Mycenaean, Geometric, Archaic, Classical, Hellenistic, and Roman periods. All the items are displayed in glass cases or plinths for easy viewing of the pieces and their information.
The Courtyard
The Courtyard is the area where the Paros Archaeological Museum presents its architectural items. Featured here are building pieces, urns, and fragments of classical Roman mosaic floors. While looking, you may find inscribed columns and memorial plaques dating back thousands of years.
The Atrium
The Atrium is also an important part of the museum. Because it is next to Panagia Ekatontapiliani, the museum works with restoration experts to display items found during renovations. For instance, mosaics discovered in the church are shown in the museum's atrium. Some of these date back to building's origins, which was approximately in the 4th century AD.
Although the museum isn't large, it is still worth a visit because it is packed with historical artifacts, many of which are from the island itself. Before you go, you should check the hours of operation. It is typically closed on Mondays, so you'll want to plan around these limitations. You can easily access the museum by taxi, rental car, or even the island's public transportation system.
PLEASE NOTE: The Greek travel section at GreekBoston.com are not paid reviews. Our unbiased and informative travel articles are designed review the popular cities, islands and places in Greece. We are not always able to exactly match the photos to the destinations, but we do try to get close. However, we are not looking for photo submissions at this time. If you find something in a Greek travel article that is not accurate based on your personal experience, please send us an email to greekboston@worldwidegreeks.com and we will consider your suggestions. Thanks for reading the travel section at GreekBoston.com!
Categorized in: About Paros, Greece, Greek Travel Guide
This post was written by Greek Boston
Share this Greek Travel Article: