Aristotle's Lyceum in Athens, Greece
Written by GreekBoston.com in About Athens, Greece, Greek Travel Guide Comments Off on Aristotle's Lyceum in Athens, Greece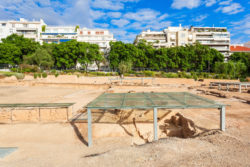 While visiting Athens, Greece, you might consider visiting the  ruins of what was once one of the greatest schools of philosophy in Ancient Greece. Aristotle's Lyceum was a Peripatetic school where the famous philosopher, known today as a "Father of Western Philosophy," lectured to his many eager students.
The Lyceum of Aristotle has only been open to the public for a few years. No entrance fee is required and guests can find the site tucked into a lovely park at the center of Athens, near the Byzantine and Christian Museum, the Sarogleio Building, and the Athens Conservatory. Here's more information:
About the Lyceum
The Lyceum is a remnant of the beginnings of democratic thought and philosophic musings. In the 4th Century B.C., Aristotle taught students in the various places of the school. The site still shows the remnants of baths with their ancient heating system, a teaching room, a large library, and areas originally meant for ancient Athenian athletes.
Classes were similar to the system set up by another famous philosopher, Plato. Advanced students had their lessons early in the morning, whereas the beginners had classes in the late afternoon. Aristotle was said to have been fond of wandering the beautiful groves of trees on the grounds of the school – sometimes with his students and sometimes alone.
History of the Lyceum
The school itself was founded in 335 B.C. by Aristotle on the site of what was once a grand public gymnasia, or athletic training center, just outside the boundaries of ancient Athens. Athletic training centers began to lose importance, which paved the way for the establishment of Aristotle's Lyceum.
Fast-forward to the present-day, the Lyceum was excavated in 1996 by the archaeologist Effie Lygouri. The site opened for the public to enjoy in June 2014. The surroundings had been turned into a lovely park to encourage quiet contemplation like had been present in ancient times.
What to Do at the Lyceum
The grounds of the Lyceum site covers about 11,500 m2. Rosemary, lavender, oregano, and thyme perfume the peaceful, park-like atmosphere. Olive and pomegranate trees add a touch of realism to the grounds while you walk around.
While visiting the Lyceum in Athens, you can tour the various ruins of the baths, library, and other places from well-maintained paths through the site. Or you can take a book to the benches set up around the site and relax in the peaceful ambience of this ancient school. Perhaps you will find Aristotle's Lyceum the perfect place for reflection like the famous philosopher did himself thousands of years ago.
While visiting the Lyceum, considering walking through the grounds to take it all in! You will certainly feel like you have stepped into history. Aristotle's Lyceum is the best place in all of Athens to reflect on the value of learning and the yet unknown principles of the world.
Source:
Categorized in: About Athens, Greece, Greek Travel Guide
This post was written by GreekBoston.com
Like this article? Please share below: