Top Attractions and Beaches in Fourni, Greece
Written by GreekBoston.com in About Fourni, Greece, Greek Travel Guide Comments Off on Top Attractions and Beaches in Fourni, Greece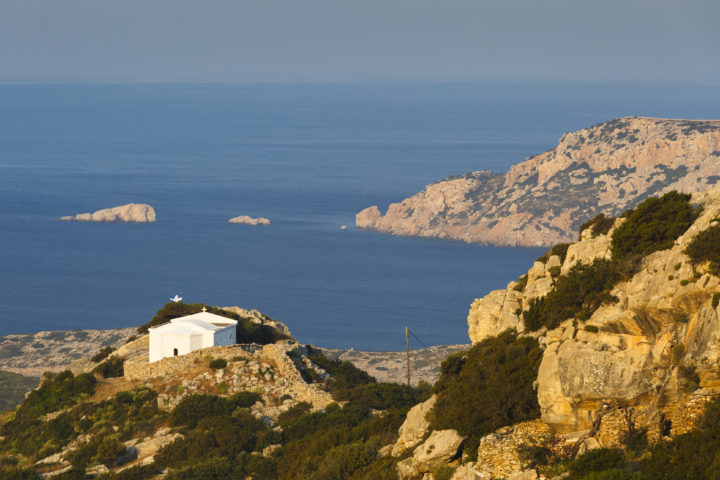 Fourni, Greece is an island with a rich and fascinating history. It was once used as a shelter from pirates. Archaeological sites act as a step back in time. In addition to the history, the island of Fourni is full of natural beauty. When visiting the island of Fourni, you will be treated to experiences you won't get elsewhere. Here are some of the prominent attractions and beaches you can visit when in Fourni, Greece.
The Tower of Agia Triada
Located at the settlement of Chrisomilia, the Tower of Agia Triada is part of a series of remnants of marble architecture and foundations that are scattered around the hill. On the northern side of Agia Triada there are remnants of a sanctuary that is thought to have been dedicated to God Poseidon. The settlement of Chrisomilia is considered one of the most beautiful fishing areas in the Aegean Sea. At Chrisomilia you can enjoy fish at the taverns and relax on the beach.
Kambi Beach
Located just 1 km from Fourni Town is Kambi Beach. It's close proximity to the capital of the island of Fourni makes it a popular beach. It is also a beautiful beach with a sandy shore that has soft pebbles scattered around. Kambi Beach is surrounded by greenery, which adds to the atmosphere of the area. The beach is not organized, but thanks to the short distance from Fourni Town you will have access to taverns where you can enjoy the villages local products that include cheese and thyme honey. The town of Fourni also has one of the largest fishing boat fleets, so that is definitely something you will want to see.
The Island of Thymaina
Across from the island of Fourni is the island of Thymaina. There is one settlement on the island where people live. You can take a lovely boat ride from the port of Fourni to the island of Thymaina. It is believed the name of the island comes from the thyme that grows there. Once at the island, you can view some of its attractions. The Chapel of Agios Dimitrios provides a breathtaking panoramic view of the area. Religion is a large part of what Thymaina is known for, which is evident in its many churches. If you are lucky, you may see turtles and dolphins off the coast of the island of Thymaina.
Kassidi Beach
Kassidi Beach is a non-organized, secluded beach found 6 km southeast of Fourni Town. It is one of the most beautiful beaches on the island featuring turquoise waters and white sand. The sea bed is rocky, so you will want to be cautious and consider appropriate footwear. Its isolated location makes it the perfect beach for anyone who is looking for quiet while on the island of Fourni. The rocky landscape surrounding the beach provides a lovely view. Kassidi Beach is nudist friendly.
The Greek island of Fourni has beauty and adventure waiting for you.
Categorized in: About Fourni, Greece, Greek Travel Guide
This post was written by GreekBoston.com
Like this article? Please share below: