Beaches to Visit in Elounda, Greece
Written by GreekBoston.com in About Elounda, Greece, Greek Travel Guide Comments Off on Beaches to Visit in Elounda, Greece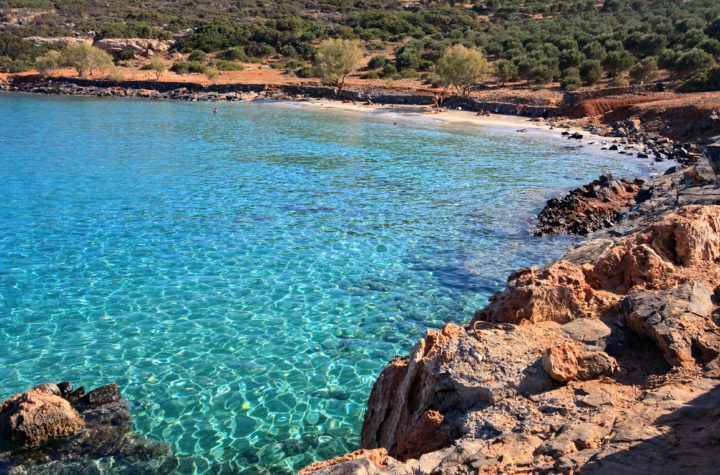 Elounda, Greece is a paradise for anyone who loves spending time at the beach. The east coast of Crete is rich in beautiful beaches, many of which boast the Blue Flag for high standards. Crete is a large island and worth exploring, but no matter what you do there, you should spend time lounging on the beaches of Elounda. Here's more information: ]
Elounda Beach
Elounda Beach is one of the most beautiful and cleanest beaches on the island of Crete. The beach is located behind the Kolokytha Peninsula, 10 km from Agios Nikolaos. Watersports equipment including pedal boats, crazy sofas, and jet skis are available at Elounda Beach. You can even enjoy snorkeling in the shallow water of the beach to see the small fish. The sand of the beach is fine and light. The shallow water of the beach makes this an ideal destination for families with young children. Another attraction to draw in families with children is the large playground. Organized activities are also available at Elounda Beach.
Kolokitha Beach
Kolokitha Beach can be found on the Elounda Peninsula. The beach is actually a secluded cove with white sand and crystal clear waters that are calm. During the summer months, Kolokitha Beach is especially popular. Surrounding the beach are wheat crops and olive groves. Close to Kolokitha Beach is another small beach that sits next to the ruins of the 5th or 6th century early Christian basilica of Kolokytha. These ruins were discovered in 1971 by an archaeologist. You can see a pulpit and gates as well as mosaic floors that have been worn down by the sea. The church is thought to have been dedicated to St. Catherine or St. Helena. Kolokitha Beach in Elounda is a wonderful spot to visit and explore.
Schisma Beach
Located in the small town of Schisma in Elounda, is Schisma Beach. This is one of the most popular beaches in the Elounda area. It is well-organized and located close to hotels and taverns. Schisma Beach features lovely sand and has been awarded the Blue Flag for its wonderful waters, which are calm thanks to the lagoon of Korfos. Also at the beach you will find a playground, water sports center, and beach volley ball nets. It is the ideal beach for visiting with a family.
Driros Beach
Driros Beach in Elounda, Greece is located across from Spinaloga Island. The beach features pine trees that provide natural shade. Water sports are available at Driros Beach. From Driros Beach you can enjoy an impressive view of the well-known Spinaloga Island. During ancient times, the island guarded the port of ancient Olous. The Venetian fortress on Spinaloga Island is an important archaeological site and rare example of island fortification.
Plaka Beach
Plaka is 16 km north of Agios Nikolaos across from the entrance of the lagoon of Korfos. The lagoon is also known as the lagoon of Elounda. The view from Plaka Beach of Kalydon Island is worth the visit. This pebbly beach sits in front of a large hotel.
Visit these lovely beaches in Elounda, Greece. The represent some of the best that Greece has to offer!
Categorized in: About Elounda, Greece, Greek Travel Guide
This post was written by GreekBoston.com
Like this article? Please share below: