Cape Sounion Beach in Athens is a Must Visit Beach
Written by Greek Boston in About Athens, Greece, Greek Travel Guide Comments Off on Cape Sounion Beach in Athens is a Must Visit Beach
Known as the "Cradle of Western Civilization", Greece is filled to the brim with incredible architecture, gorgeous art, and scenic seaside locations. Athens is one of the most notable cities in Greece, particularly since it is both a modern city and an ancient one.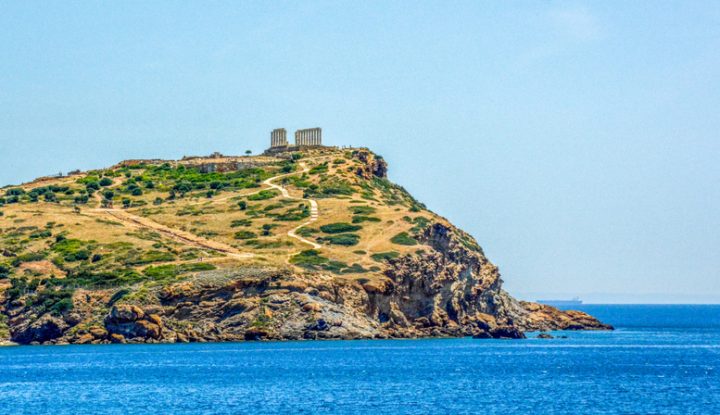 The city is also in close to many notable beaches and seaside towns, most of which are easily accessible from the city itself. One of the most interesting beaches in the area is the Cape Sounion Beach. It's known both for its beauty and its unique historical stories.
About Cape Sounion Beach
Cape Sounion Beach is on the shore southernmost of Athens. It's a rocky peninsula that projects itself out over the Aegean Sea. You won't be able to find a more scenic spot to view the sea and the nearby temples. Throughout the ages, Cape Sounion Beach has played a major role in many famous Greek stories.
For example, according to some of the old legends, Cape Sounion is where King Aegeus, the King of Athens, stood watching for his son, Theseus, to return from Crete. Upon seeing the ship, he saw that the sail was black. This led him to believe that his son was killed by the Minotaur. Filled with grief and despair, King Aegeus dove from Cape Sounion and plummeted into the sea. This is how the "Aegean Sea" got its name.
What to Do at Cape Sounion Beach
At the highest point of Cape Sounion, you can find the Temple of Poseidon. It was made in the 5th century BC and is constructed completely of white marble.In the past, it was a hub for a festival and worship. Today, it is a beautiful historical piece to view and enjoy.
Sounion is also famous for its scenic sunsets with cascading rays of blues and orange. If you look closely, you can find the name of Lord Byron hidden among the ruins. He was so infatuated with the sunset view that he composed multiple poems in its honor.
Also, don't forget to stop at one of the several local restaurants or cafes. Greek food is known to be some of the tastiest food in the world. There are plenty to visit in the area. You can expect most of the restaurants to feature mainly seafood. The seafood, of course, is very fresh and often expertly prepared. You will find some of the best calamari, octopus, and fish dishes in the world right there in Sounion.
Getting to Cape Sounion Beach
There are several ways to get to Cape Sounion Beach from just about any location in Athens. If you're looking for something more organized, there are discovery tours available that will take you from Athens down to Cape Sounion.
You can also find private transfer services such as taxis and VIP buses. These are more recommended as they can pick you up directly from the airport or your hotel. You can also find more local drivers available as well.
If you want more autonomy in your travels, consider renting a car. Athens offers several car rental services that are actually very cheap and reasonable. Using the car will allow you to drive along the beautiful coastal highways and stop wherever you please to view the sights.
Finally, there are buses that will take you from Athens to the Cape, but they do follow specific schedules that you'll have to consider.
Cape Sounion Beach is gorgeous and significant to Greek culture and absolutely should not be ignored if you plan on going to Greece. From its stunning sunsets to the impressive temples, you'll be sure to find something worth seeing. The food is great, and who wouldn't want to stand in the same spot as an ancient King?
PLEASE NOTE: The Greek travel section at GreekBoston.com are not paid reviews. Our unbiased and informative travel articles are designed review the popular cities, islands and places in Greece. We are not always able to exactly match the photos to the destinations, but we do try to get close. However, we are not looking for photo submissions at this time. If you find something in a Greek travel article that is not accurate based on your personal experience, please send us an email to greekboston@worldwidegreeks.com and we will consider your suggestions. Thanks for reading the travel section at GreekBoston.com!
Categorized in: About Athens, Greece, Greek Travel Guide
This post was written by Greek Boston
Share this Greek Travel Article: