Visit the Cave of Saint John in Iraklia
Written by Greek Boston in About Iraklia, Greece, Greek Travel Guide Comments Off on Visit the Cave of Saint John in Iraklia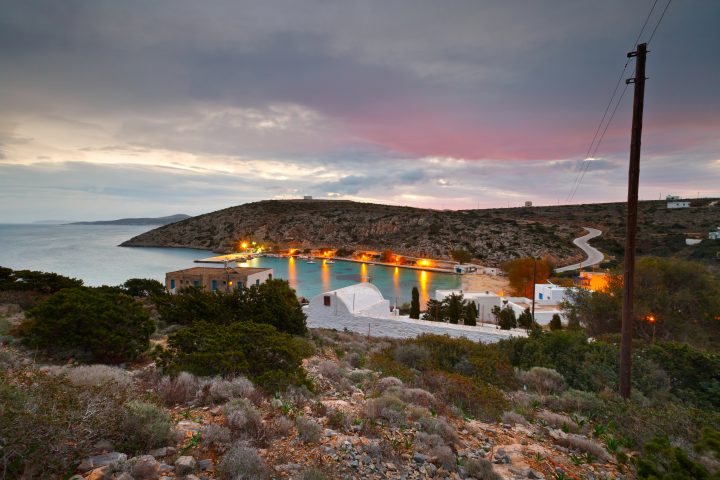 If you are looking to experience the true wonders of Greece, then Iraklia is the place. Since antiquity, it has been inhabited as a picturesque and historical harbor town, it has been inhabited since antiquity, and its roots can be traced back to ancient Greece. A minor crossroads on the Gallipoli–Salonica highway, this place is home to many natural wonders witnessed during many important world events in history. Global recognition of its natural beauty has helped attract the attention of visitors from all over the world, and, today, Iraklia is one of the most important tourist destinations in Greece.
About the Cave of Saint John
The Cave of Saint John is located in Iraklia and is well worth visiting for its unique historic, cultural, and religious importance. This cave has been an attraction for thousands of tourists who have visited it. The cave was revealed when the Byzantine Emperor Justinian I built a church there in 518 CE. The cave was later a seat of the Orthodox Metropolis during the Ottoman rule of Greece between 1499-and 1912.
In the year of its completion, Emperor Justinian I dedicated the cave to St. John, whose name had become legendary after discovering his remains on nearby Lesbos Island. The cave is situated in close proximity to another historic site, namely the Cave of the Apocalypse (Agia Triada), which was a popular destination for religious pilgrims for centuries. According to custom, pilgrims would visit the Cave of St. John on their way to the Cave of the Apocalypse. The history surrounding this particular cave is interesting and worth exploring.
What to Do at the Cave of Saint John
If you are visiting Iraklia for the first time and looking for a memorable experience, you should make it a point to visit this place. The cave is not very far from town so you can easily walk there. Once there, you can admire hidden Byzantine frescos dating back to 1588 and admire the sight of hundreds of rosaries that many faithful Turkish pilgrims have left behind. The cave also contains Byzantine icons brought here within centuries and carved by unknown masters.
Another thing to do is to get insight into the historic background of the place by reading about it at the museum found within its premises. Depending on your level of interest, you can look around and read the information boards that are accompanied by pictures or get a proper guide from the official tourist center to help you explore each place in detail.
You can also visit the neighboring Cave of the Apocalypse, located about 3.2km away from the Cave of Saint John. This cave is also a part of an impressive network of caves, and it contains numerous historical relics and frescos that date back to Ottoman rule.
Getting to the Cave of Saint John
The Cave of Saint John is located on Dapia Street in Iraklia. You can reach it on foot by following the road that leads to the harbor and then taking a right turn at the end of the town. It is also accessible by car via an asphalt road that begins at a junction of the road to Stavros. In any case, if you follow any of these directions, you will find it easily. You can also get there by taking the local bus along the coast road.
The Cave of Saint John is very popular among visitors, and its central location makes it easy to get there. This cave remains in the memory of people all over the world because it was one of the first places that revealed several important religious icons. This cave should be visited by anyone who wants to experience the true beauty of Greece.
PLEASE NOTE: The Greek travel section at GreekBoston.com are not paid reviews. Our unbiased and informative travel articles are designed review the popular cities, islands and places in Greece. We are not always able to exactly match the photos to the destinations, but we do try to get close. However, we are not looking for photo submissions at this time. If you find something in a Greek travel article that is not accurate based on your personal experience, please send us an email to greekboston@worldwidegreeks.com and we will consider your suggestions. Thanks for reading the travel section at GreekBoston.com!
Categorized in: About Iraklia, Greece, Greek Travel Guide
This post was written by Greek Boston
Share this Greek Travel Article: