Head to Corfu for a Traditional Carnival Celebration
Written by Greek Boston in About Corfu Greece, Greek Travel Guide Comments Off on Head to Corfu for a Traditional Carnival Celebration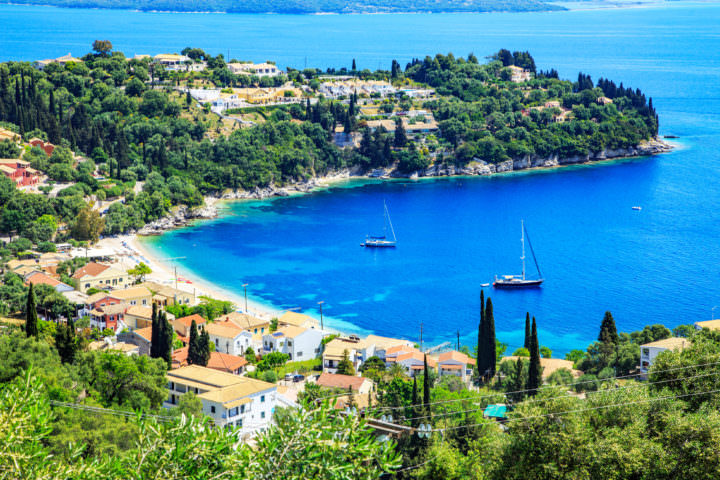 One of the hottest Ionian Islands for tourism is Corfu. Situated in the Adriatic just east of Italy, Corfu has a long history under the yoke of foreign powers, most notably the French, British, and the Venetians. Although Corfu is now officially a part of Greece, many of the customs from their former rulers persist to this day. One of the most notable legacies of the Venetians' rule is the annual Carnival of Corfu. If you want to learn more about how you can participate in the Corfu Carnival, then read on. Below, we'll explore the fascinating history of this unique festival.
Getting to the Island of Corfu
Before we go into the details of the Carnival of Corfu, it's important for visitors to know the best way to get to this island. Since Corfu is one of the most tourist-friendly islands in all of Greece, you shouldn't have an issue finding a boat or plane into the island. For those who want to use air travel, you'll be flying into the Corfu International Airportin Garitsa. People who would prefer to travel to Corfu by boat will find ferries from many major port cities in Italy, Albania, and Greece. Some of the best cities to catch a ferry ride to Corfu from include Venice, Sarandë, and Patra.
About the Carnival of Corfu
Historians say locals on the island of Corfu were celebrating festivals long before the Venetians took over in the Medieval Era. Most scholars believe these pre-Venetian festivals paid homage to the Greek god of revelry and intoxication, known as Bacchus(or Dionysus. 
The Carnival of Corfu we know today, however, has a lot more in common with Venice's Carnival than it does with ancient Greek rites. Visitors during the Carnival of Corfu will instantly be transported back to the Middle Ages as they pass by locals in elaborate masked aristocratic costumes.
The most significant events of Carnival happen on three Sundays leading up to Lent, starting on the Orthodox holiday known as the Sunday of the Prodigal Son. While most of the carnival fun happens in Corfu City, you can find festivities going on all throughout the island during this time of the year.
What to Do at the Carnival of Corfu
The highlights of Carnival all have to do with the colorful parades that happen throughout the island. The best place to see these parades is in Corfu City in either Liston or Spianada squares. At the end of the Grand Parade, you'll get to see the symbolic burning of King Carnival. According to local beliefs, all of Corfu's sins burn away in this grand bonfire.
All distinctions in rank, age, and education are blurred during these festivities, and insults are commonly thrown around (especially concerning local politicians). Don't get annoyed if you're called out by revelers…just join in the fun and get all your frustrations off your chest. There are no rules or restrictions during Carnival season!
Sure, Carnival is way more famous in Venice, but that shouldn't stop you from visiting Corfu before Lent. Indeed, Corfu's festivities are just as authentic as those in grand Venezia, and you'll probably have an easier time getting around this Greek island than the tourist-trap that is modern Venice. No matter who you are or where you're coming from, you're sure to have an exhilarating time in Corfu during Carnival season.
PLEASE NOTE: The Greek travel section at GreekBoston.com are not paid reviews. Our unbiased and informative travel articles are designed review the popular cities, islands and places in Greece. We are not always able to exactly match the photos to the destinations, but we do try to get close. However, we are not looking for photo submissions at this time. If you find something in a Greek travel article that is not accurate based on your personal experience, please send us an email to greekboston@worldwidegreeks.com and we will consider your suggestions. Thanks for reading the travel section at GreekBoston.com!
Categorized in: About Corfu Greece, Greek Travel Guide
This post was written by Greek Boston
Share this Greek Travel Article: