Things to Do in One Day in Heraklion, Crete
Written by Greek Boston in About Crete Greece, About Heraklion, Greece, Greek Travel Guide Comments Off on Things to Do in One Day in Heraklion, Crete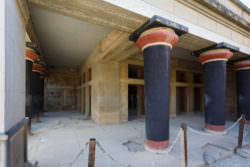 Do you only have one day to spend in Heraklion? There are a few reasons why you might only have one day to spend in Crete's largest city. For example, Heraklion tends to be a cruise destination. It is also a worthwhile day trip if you are staying in other parts of the island. Since Crete is such a big island, narrowing things down can seem overwhelming. Here's a look at some of the top things you can do here if you only have one day to explore the city:
Knossos Palace
If you have never been to Heraklion before, you won't want to miss the chance to visit the Knossos Palace. This Minoan palace was once considered one of the Seven Wonders of the Ancient World. Although it is in ruins, it is still impressive, especially if you think about when it was built. Be sure to take a tour so that you can get the most out of your visit. If you have some extra time, you won't want to miss the Labyrinth, which is where the Minotaur was said to have lived. This is an especially great place to visit for history buffs and fans if the Greek mythological stories.
Archaeological Museum of Heraklion
Located near a pedestrian zone, the Archaeological Museum of Heraklion is a place you absolutely need to visit, especially if you have an interest in the ancient culture of the island. Although you don't need to visit Knossos to appreciate this museum, it really does help. Many of the frescoes that were found at the ruins of the castle are actually on display here. Otherwise, the elements of the outdoors would ruin them. Browse through other artifacts such as ancient jewelry that looks remarkably similar to a lot of our modern jewelry, clay pots, examples of both Linear A and Linear B, the early scripts of the Ancient Greek language, and sculptures that were found at various dig sites. If you want a quick and efficient overview of the museum, consider hiring a guide.
Hop-On Hop-Off Bus
Are you looking for an easy way to see all the main sites of the city in only one day? Consider taking the hop-on hop-off bus that takes you through to all the major sites and landmarks that Heraklion has to offer. This is the most efficient and carefree way to see what the city has to offer. If you only have a few hours, you can circle the route once and not get off the bus. Just sit and listen to the narration to get an overview. If you do want to stop at some of the sites in advance, plan things out so that you won't miss the chance to take any tours that you want to. For example, if you know you want to visit Knossos, be sure to arrive there with enough time to explore and take all the tours you want.
It isn't ideal to only have one day to spend in Heraklion. However, it is possible to get a nice overview during your stay.
PLEASE NOTE: The Greek travel section at GreekBoston.com are not paid reviews. Our unbiased and informative travel articles are designed review the popular cities, islands and places in Greece. We are not always able to exactly match the photos to the destinations, but we do try to get close. However, we are not looking for photo submissions at this time. If you find something in a Greek travel article that is not accurate based on your personal experience, please send us an email to greekboston@worldwidegreeks.com and we will consider your suggestions. Thanks for reading the travel section at GreekBoston.com!
Categorized in: About Crete Greece, About Heraklion, Greece, Greek Travel Guide
This post was written by Greek Boston
Share this Greek Travel Article: