Ways to Explore Kos Island's Ancient Past
Written by Greek Boston in About Kos, Greece, Greek Travel Guide Comments Off on Ways to Explore Kos Island's Ancient Past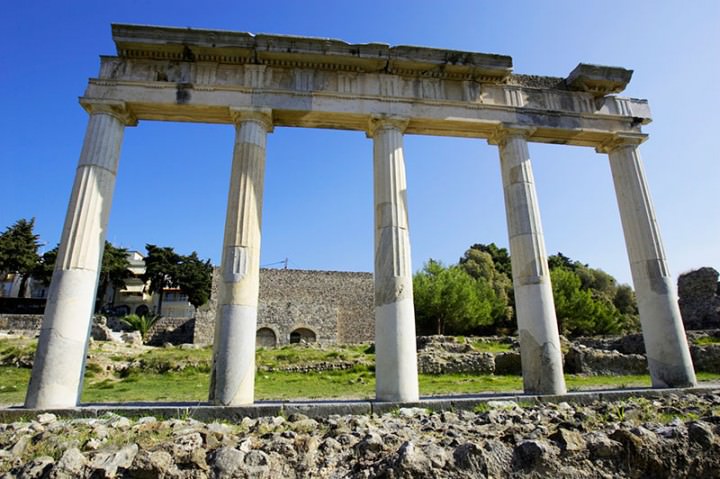 It's easy to see why Kos Island has become a popular spot for travelers. The fact that it doesn't see the sheer volume of visitors that islands like Santorini and Crete do only increases its charm.
For many, this island represents the ideal convergence between Greece's ancient past and its present. Old Corinthian columns line modern roadways, while users drive by, snapping photos with their digital cameras. However, in order to truly get a feel for Kos, it's best to begin by exploring some of the most famous, ancient sites. Here's a list of some of the most common:
Asklepion
Kos Island was home to Hippocrates, who is now dubbed as the "Father of Modern Medicine". The Asklepion was built in the Third Century BC after Hippocrates passed away. Dedicated to Asclepius, the god of medicine and healing, the Asklepion was an ancient medical clinic that is largely in ruins today. Visitors can explore what remains of this famous clinic. There are multiple informational plaques on site. It's also possible to take a tour.
Ancient Agora
Located in Kos Town, the Ancient Agora is a good example of typical marketplaces in Ancient Greece. However, it wasn't only used as a marketplace. There are also remains of baths, temples, and even examples of houses with some of the mosaics and frescoes still intact. One of the temples is dedicated to Aphrodite, and another seems to be dedicated to Hercules. However, whether or not it truly was dedicated to Hercules is the subject of some debate.
Plateia Planou
The Plateia Planou is the square where the remains of the Hippocrates Plane Tree, the site where Hippocrates is said to have taught his students, is located. You can overlook gaze at this historical site while sitting at a modern cafe. This makes the Pateia a perfect example of where the past and present converge on Kos.
Casa Romana
The Casa Romana is a Roman mansion with thirty-six rooms that was built in a style that was popular throughout the Roman Empire in the Second Century BC. It was built on top of the ruins of an older house from the Hellenistic Period of Ancient Greece. The mansion is also the site of several impressive frescoes including one that depicts a panther that is attacking a bear.
Roman Odeon of Kos
Sometime in the second or third centuries BC, the Ancient Romans built this structure, which was acoustically designed to accommodate singers, musicians, and poets. The Romans used this particular Odeon, however, for gladiator fights.
Today, the original Roman Odeon has been restored, making it a great venue for modern performances. Note that the first nine rows or so are part of the original structure. The Odeon is located in Kos Old Town, near the Casa Romana.
In order to truly understand Kos Island, you should at least visit some of the major archaeological. They'll give you a nice overview of the ancient history of the island.
PLEASE NOTE: The Greek travel section at GreekBoston.com are not paid reviews. Our unbiased and informative travel articles are designed review the popular cities, islands and places in Greece. We are not always able to exactly match the photos to the destinations, but we do try to get close. However, we are not looking for photo submissions at this time. If you find something in a Greek travel article that is not accurate based on your personal experience, please send us an email to greekboston@worldwidegreeks.com and we will consider your suggestions. Thanks for reading the travel section at GreekBoston.com!
Categorized in: About Kos, Greece, Greek Travel Guide
This post was written by Greek Boston
Share this Greek Travel Article: