Hydra: A Preserved Stone Village Free of Automobiles
Written by GreekBoston.com in About Hydra, Greece, Greek Travel Guide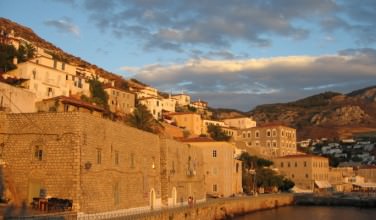 Hydra is an island located in the Saronic Gulf, only an hour and a half from Athens. Unlike the other Greek islands, Hydra is free of all wheeled vehicles including cars and doesn't have an airport. The only way to get to Hydra is to sail or ferry in. The only means of heavy transport on the island are mules and donkeys.
Hydra features a preserved stone village and marble cobbled lanes. It has a rich naval and architectural history. During high season the harbor is extremely busy with yachts, water taxis, and sailboats going in and out throughout the day. The center of island life is Hydra Town, which features a historic feel with mansions and a vibrant café scene.
Sightseers can enjoy visiting the museums of Hydra. Lazaros Koundouriotis is the primary cultural attraction on the island. It's a late 18th century stone mansion set high above the harbor and was once home to a leader in the Greek independence struggle. It is filled with original furnishings from the 18th century, folk costumes, and a painting exhibition. The Museum of Hydra houses a large collection of portraits and naval artifacts with an emphasis on the island's role in the Greek War of Independence. It features temporary exhibits that rotate through the high season. Occasionally, visitors can enjoy concerts on the rooftop terrace. Kimisis Tis Theotokou is housed in the monastery complex on the harbor and dates from the 17th century. The Ecclesiastical Museum is located within the church and contains a collection of icons and religious pieces.
While the island is most widely known for its port and harbor, it has a mountainous interior with many coastal paths for hikers to enjoy as well as swimming bays. The interior of the island is a peaceful contrast to the busy harbor during peak season. Hiking paths lead to Moni Profiti Ilia and Mt. Eros- the island's highest point. Hydra lacks sandy beaches so people usually swim off of the rocks or find one of the few small pebble beaches that are in Kamini, Mandraki, Bisti Bay, and Agios Nikolaos Bay.
Obviously, the only way to get to Hydra is by sea. If you plan to visit, you must take a ferry. Hydra is linked to high-speed ferries that come from Ermioni, Piraeus, Poros, Porto Heli, and Spetses. The frequency of the trips varies by location and depends on the season. There are far less ferries during the off peak season.
Categorized in: About Hydra, Greece, Greek Travel Guide
This post was written by GreekBoston.com
Like this article? Please share below: