Visit the Ionian Academy on Corfu
Written by GreekBoston.com in About Corfu Greece, Greek Travel Guide Comments Off on Visit the Ionian Academy on Corfu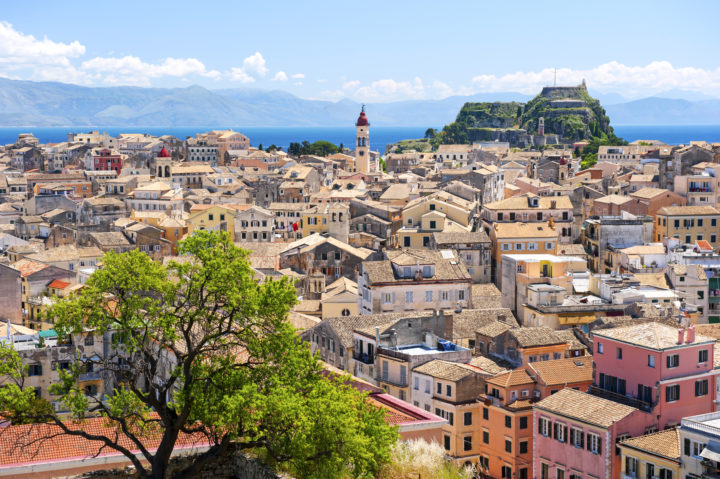 The island of Corfu, Greece is natural beauty. The mountains, the sea, the lagoons, and the villages form an island that is full of wonder. The history of the island can be seen in the cobblestone alleys, archaeological sites, monuments, roman baths, castles, monasteries and museums.
The Ionian Academy is an important part of Corfu and Greece's history as it was the first Greek academic institution to be established in modern times. Here's what you should know about the Ionian Academy in Corfu.
The History of the Ionian Academy
The Ionian Academy on Corfu was in existence from 1824 – 1864. It was the first Greek university in modern times. The Ionian Academy was started by a British man by the name of Phil Hellene Frederic North who was the Count of Guilford. He first visited the island of Corfu in 1791 and was determined to have a good relationship with the island. When the island of Corfu came under British rule, North had a plan to set up a university. His mission was to create a place for Greeks to advance their education without having to leave the country.
The academy offered courses in sciences, ethics, humanities, botany, penal civil law, physiology, and political economy. Throughout the years, the Ionian Academy would experience ups and downs. After the death of North in 1827, many of the books he had donated to the academy would be sent back to Britain. By 1828, the medical school of the Ionian Academy was shut down. Scholars who taught at the Ionian Academy included: Greek poet Andreas Kalvos, Christoforos Filitas, Nikolaos Piccolos, and Konstantinos Typaldos.
Until 1941, the Ionian Academy building was used as a library and Corfu Town's high school. In 1943, the building was burned by a German bombing. It was later restored.
Visit the Ionian Academy on Corfu
The Ionian Academy is an important part of not only the history of Corfu, but the history of Greece. Take a step back in time when you visit the building that was the first Greek university. The Ionian Academy produced a number of important graduates. Today, the Ionian Academy serves as a department for the Ionian University. Inside the building you can see displays and beautiful architecture.
Getting to the Ionian Academy on Corfu
To visit the Ionian Academy, you must first get to the island of Corfu. There is an airport on the island of Corfu, which is located near Corfu Town. You can also get to Corfu Island by ferry. You can catch a ferry from Patra or Igoumenitsa to Corfu Island. The trip from Igoumenitsa is much shorter of the two at about 90 minutes. The ferry from Patra takes 7 hours.
Once on the island of Corfu, you can rent a car or take a taxi to the Ionian Academy. Visiting this historic and important site on the island of Corfu will be a wonderful addition to your trip.
Categorized in: About Corfu Greece, Greek Travel Guide
This post was written by GreekBoston.com
Like this article? Please share below: