Best Off-The-Beaten-Track Islands To Visit in Greece
Written by Greek Boston in Greek Travel Guide Comments Off on Best Off-The-Beaten-Track Islands To Visit in Greece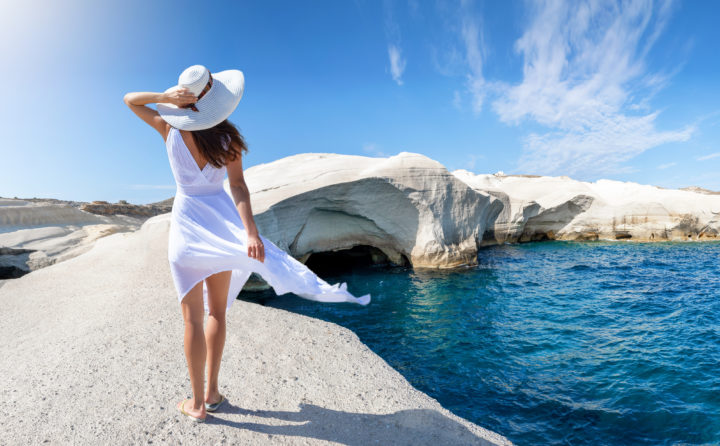 Greece is a country filled with wonders to explore that it can be hard to choose exactly what to do. If you want an island vacation, your impulse might be to spend time at one of the large and more popular islands in Greece. However, there is so much more to the Greek islands than that!
Here's a look at 8 of the best off-the-beaten-track islands to visit in Greece:
Milos is one of Greece's volcanic islands, featuring traditional and beautiful Greek architecture and a wide variety of beaches for you to enjoy on your holiday. Visitors will enjoy a much slower and more relaxed atmosphere than can be found on the more popular island destinations that Greece offers. The landscape features over 80 white sand beaches as well as the striking volcanic rock formations, caves, and caverns that have naturally developed here.
Kythira is a lovely little island port located right between Greece's mainland and Crete. Here, visitors can find themselves walking around and exploring several little villages and really immersing themselves in the small-town culture the island provides. After shopping, dining, and wandering around the tiny port towns, there are no shortage of stunning waterfalls and beaches for vacationers to explore. The island is also known for its artists, so there are plenty of galleries and artist's shops to enjoy here.
The island of Amorgos boasts plenty of hiking trails along the rocky terrain, and – since most of the island reaches far above sea level – this is definitely a place for nature lovers who want to take in the view. Along with the natural trails, Amorgos also homes some of Greece's most beautiful architecture. Here, visitors can marvel at the brightly colored building balconies and even visit a historical monastery among other landmark buildings.
Hydra is the perfect island destination for visitors looking for a little more hustle and bustle. The Hydra capital features no shortage of restaurants, shops, and entertainment to enjoy. Cars aren't allowed here so that makes it extra relaxing! For a more quiet getaway, the island itself has many uninhabited inlets and beaches for a relaxing day.
The island of Sifnos is a great destination for vacationers looking for delicious Greek food and a truly cultural experience. Visitors can enjoy the food and shopping in the main port town and then unwind on the beautiful peach beaches in the sun. If you're looking for museums full of archaeology and Greek folklore, then this is the place you want to be.
Folegrandos is a peacefully quiet and small island that allows visitors to experience all of its beauty without feeling like a typical tourist. The tiny villages are quiet and offer the perfect place to enjoy some relaxation at a local cafe. Visitors can spend their days wandering the natural hillside among wildflowers in this special and tranquil place.
The island of Karpathos seems untouched by time, allowing visitors to immerse themselves in the rich culture and history here. From the traditional food, dances, and festivals, to the amazing Greek island restaurants, there is always something to enjoy. After exploring the towns, vacationers can choose from a wide variety of beaches to unwind.
Astypalea has something for everyone, boasting a bustling capital of gorgeous stark white buildings along with several small and quiet seaside villages along the capital's outskirts. The views are incredible despite their simplicity.
While in Greece, you won't want to miss the chance to visit some of these out of the way islands!
PLEASE NOTE: The Greek travel section at GreekBoston.com are not paid reviews. Our unbiased and informative travel articles are designed review the popular cities, islands and places in Greece. We are not always able to exactly match the photos to the destinations, but we do try to get close. However, we are not looking for photo submissions at this time. If you find something in a Greek travel article that is not accurate based on your personal experience, please send us an email to greekboston@worldwidegreeks.com and we will consider your suggestions. Thanks for reading the travel section at GreekBoston.com!
Categorized in: Greek Travel Guide
This post was written by Greek Boston
Share this Greek Travel Article: