A Day Trip to the Kaisariani Monastery from Athens
Written by GreekBoston.com in About Athens, Greece, Greek Travel Guide Comments Off on A Day Trip to the Kaisariani Monastery from Athens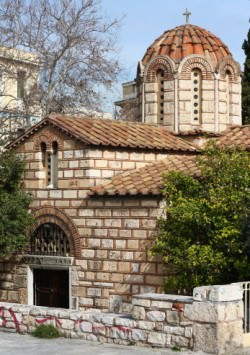 If you're looking to venture just outside of Athens for the day, the Kaisariani Monastery (or Moni Kaisarianis) is a great place to visit. This beautiful 11th century Eastern Orthodox monastery sits on the wooded slopes of Mt. Hymettos just 5km east of the city.
Kaisariani Monastery was built over the ruins of a Roman temple. Today, four columns of the ancient temple survive and support the dome of the monastery's church. The walled complex has a central court surrounded by a kitchen and dining rooms, the monks' cells, and a bathhouse. The monastery was a major cultural center during the years of economic prosperity at the end of the 12th century and beginning of the 13th century AD. The church of the monastery was dedicated to the Presentation of the Virgin and is built in the shape of the Greek cross. It was used briefly as a convent after the War of Independence until 1855. It was restored in 1956.
Kaisariani Monastery houses beautiful frescoes that are well preserved and date back to the 17th and 18th centuries. The finest frescoes can be found in the narthex and were painted by the Peloponnesian artist Ioannis Ypatos in 1682.
Just above the monastery is the source of the River Ilissos. In ancient times the river was believed to cure sterility and it is still believed to have magical qualities. Water still flows from an ancient marble ram's head fountain on the eastern side of the monastery, which people still visit for its sacred qualities. Before the Marathon dam was built, this spring was Athens' main source of water. Agiasma, a sanctum on the southwest of the monastery's courtyard, houses another fountain.
The large garden of the monastery is a peaceful sanctuary. The gardens are owned by the Athens Friends of the Tree Society who planted them after all the trees were cut down during World War II. If you enjoy hiking, Kaisariani Monastery is an excellent starting point for a hike on Mt. Hymettos since it has paths that lead to the forest from the monastery. If you aren't much of a hiker, you can still sit and relax and enjoy the peaceful surroundings and mountain air that you won't find in Athens proper. The scenery makes Kaisariani Monastery a popular spot for a picnic, especially on the weekends.
A visit to Kaisariani Monastery is perfect for a day trip from Athens. It's best reached by car but there are other ways to get there. Bus 224 from Plateia Kaningos will bring you close, and then it is a 30-minute walk to the monastery. Or, you can always take a taxi. It's important for visitors to keep in mind that Kaisariani Monastery is an active church. Dress appropriately during a visit. Inappropriate clothing includes shorts, miniskirts, and sleeveless shirts.
Categorized in: About Athens, Greece, Greek Travel Guide
This post was written by GreekBoston.com
Like this article? Please share below: