Experience Katavothres in Kefalonia
Written by Greek Boston in About Kefalonia Island, Greece, Greek Travel Guide Comments Off on Experience Katavothres in Kefalonia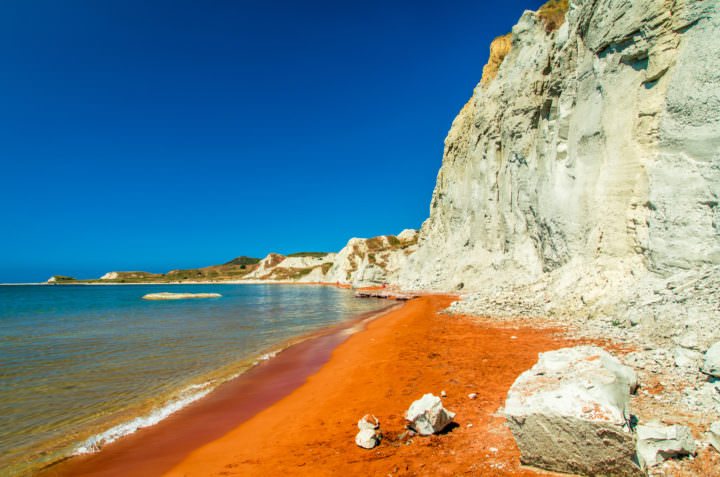 Kefalonia is one of those islands that is particularly known for its natural beauty. In fact, it's so large, that it is easy to get lost, in a good way. While much of the natural beauty on the island is focused on the beaches, there are other things to discover, as well. In Katavothres, you will be able to witness a truly unique geological occurrence. While on the island, you definitely won't want to miss it. Here's more information:
Getting to Kefalonia
Before you can head to Katavothres, you first need to make your way to Kefalonia. To do this, you can either take a plane into the regional airport in the Svoronata region of the island, or you can take a ferry. From there, you will need to make your way to Argostoli in order to visit Katavothres. Argostoli is about a thirty-minute drive from the airport and over an hour away from Poros, the main cruise port.
About Katavothres
As mentioned above, Katavothres is the home of a unique geographical phenomenon. You'll want to start your journey in Argostoli and from there, you take Fanari Road about three kilometers until you get to the site. Here, you will be able to witness the interesting phenomenon while relaxing in a peaceful setting. Basically, sea water comes through some cracks in the earth. Instead of it rising to the surface, however, the water vanishes without a trace. This is a rare phenomenon, which means that it has intrigued people for quite some time. In the early 1800's, for example, the English used this to help power their corn mills. Geologists have been studying this for quit some time, too.
How the Water Travels
Although this has intrigued people for centuries, geologists have started studying it in the 1960's Geomorphologists  from Australia at that time wanted to try to understand where the water actually came from and where it went when it disappeared. These researchers injected a purple-colored dye into the water when it briefly surfaced before getting sucked back into the earth. From this experiment, they realized that the sea water traveled underground, mixed with rainwater, deposited into the sea at the village of Karavomilos, where it went on to the lake at the Melissani Caves. Eventually, the water from these caves empties into Sami Bay. Although we know how the water travels, it is still largely unknown why it actually occurs. This is part of the mystery that draws people to this site.
Because of how intriguing this natural phenomenon is, people from all over the world are drawn here. Not only that, but you can easily make a day out of visiting here. Start your journey in Argostoli and then make your way to Katavothres so that you can watch it. Take plenty of pictures and be sure to explore the natural beauty of the surrounding area, as well. From there, you'll also want to visit the nearby village before heading back to Argostoli.
Source:
PLEASE NOTE: The Greek travel section at GreekBoston.com are not paid reviews. Our unbiased and informative travel articles are designed review the popular cities, islands and places in Greece. We are not always able to exactly match the photos to the destinations, but we do try to get close. However, we are not looking for photo submissions at this time. If you find something in a Greek travel article that is not accurate based on your personal experience, please send us an email to greekboston@worldwidegreeks.com and we will consider your suggestions. Thanks for reading the travel section at GreekBoston.com!
Categorized in: About Kefalonia Island, Greece, Greek Travel Guide
This post was written by Greek Boston
Share this Greek Travel Article: