Enjoy Lake Kournas Near Chania, Greece
Written by GreekBoston.com in About Chania, Greece, Greek Travel Guide Comments Off on Enjoy Lake Kournas Near Chania, Greece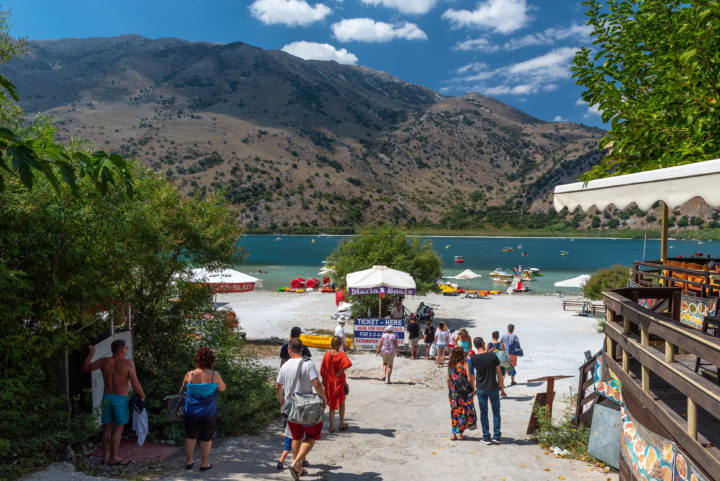 If you're visiting Chania, Greece, you will want to visit the only natural lake in Crete. Lake Kournas is a beautiful lake in a breathtaking area. You should definitely consider spending time here! Here's what you should know about Lake Kournas near Chania.
About Lake Kournas Near Chania
Lake Kournas is located just 4 km from Georgioupolis in Chania. This small, fresh water lake is the only one of its kind in Crete. During antiquity, the lake was known as Korisia. Kournas is the Arabic word for "lake." The location of Lake Kournas is beautiful, relaxing, and the perfect destination for nature lovers. The lake lies in a valley among the hills. The lake covers an area of about 579,000 square meters and is quite shallow. The deepest part of the lake is 22.5 meters. The lake is located 20 meters above sea level.
There are two springs at the southeast bank of the lake. One is called Mati or Amati (meaning "eye") by the locals. This spring is visible during the late summer. Lake Kournas is fed by streams that come from the mountains and hills nearby. Lake Kourna is an important wetland that is protected by Natura 2000. The lake is home to eels, water snakes, and ducks. It is also home to a rare species of bicolored terrepin that have a patterned shell called the Diamondback Terrapin. Cormorants and herons are also seen at the lake at times.
There are a few legends about Lake Kournas. One of these legends says that the inhabitants of the area acted and lived in an ungodly way and were punished for their behaviour. It would rain for many days, drowning the village and the inhabitants. A priest's daughter was the only person to survive and is a water nymph who cares for the small living creatures who call the lake their home.
Visit Lake Kournas near Chania
Lake Kournas is a beautiful area to visit. Walk around the lake and feed the ducks while you admire the view from all sides of the lake. A fun or romantic way to spend your time at Lake Kournas is a pedal boat ride.
Lake Kournas is home to two small beaches where you will find sun beds and umbrella. It's a lovely spot to lounge in the sun and swim the afternoon away. During the winter and spring months, the beach disappears due to the riding lake water.
There are many cafeterias and tavernas at the lake. Enjoy the amazing view while you have a refreshing drink or meal. The tavernas have traditional Cretan cuisine. There are also pottery workshops in the area where you can buy souvenirs such as local handicrafts.
Chania is one of those gorgeous cities that has no shortage of things to do.  Visiting Lake Kournas is something that should be on your list.
Categorized in: About Chania, Greece, Greek Travel Guide
This post was written by GreekBoston.com
Like this article? Please share below: