Lemnos is a Quiet Aegean Retreat
Written by GreekBoston.com in About Lemnos, Greece, Greek Travel Guide Comments Off on Lemnos is a Quiet Aegean Retreat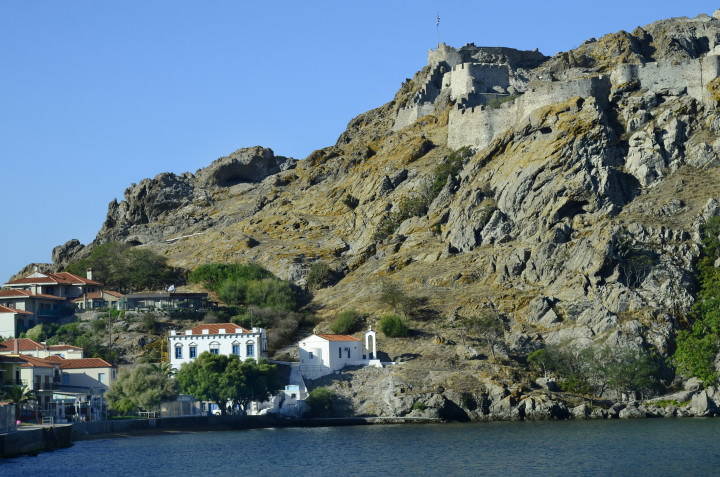 When people visit Greece, they always have a choice. They can spend their days lounging at the beach, visiting seaside lounges and restaurants, and shopping in all the tourist shops available to them. While fun, this isn't the real Greece – it's the one put in place by the tourism industry to accommodate those who wish to relax and unplug from their normal lives.
However, there's another side of Greece that's also worth exploring. Traditional Greek life is very different than the life most tourists tend to experience – and if you want to experience life away from all the tourist traps, there's no better place to do that than the isolated island of Lemnos, which is located on the Aegean Sea. Here are some things you can do while here:
Enjoy a Traditional Greek Fishing Harbor
The capital of the island, Myrina, more closely resembles a traditional fishing harbor than it does a modern city. Fishing boats hug the coastline, either displaying their fresh hauls or waiting for the next excursion out into the seas. The city has a relaxed feel that has enough going on to enchant guests and locals alike.
It's also a gentle city and the homes and businesses dotted across the landscape, giving it a gentle atmosphere. While here, try eating in one of the city's fish tavernas, or purchase some fresh seafood to cook yourself if your guest room has a kitchen. However, there is still evidence of a small tourist culture here – you can easily shop for souvenirs or enjoy some of the city's nightlife.
Spend Some Time at the Beach
Do you avoid some of the hectic beach resorts in some of the other parts of Greece? If you prefer a quiet beach, where the beauty of the island and of the Aegean is at the center of the experience, this island is the place for you! Beaches such as Thanos Beach, Plati Beach, and Keros Beach are known for their natural beauty and offer a relaxing way to spend your time on the island. While they do have services nearby and even lounge chairs to rent, they seem to attract a gentler, more relaxed crowd than some of the other beaches in Greece.
Enjoy One of the Most Popular Diving Locations in Greece
You also don't necessarily need to lounge on the beach in order to have fun with the Aegean. Lemnos is actually known as being a top spot for diving enthusiasts. If you would like to dive while on this island, be sure to contact places such as the Black Rock Dive Centre, which specialize in diving services for people of all skill levels. Diving gives you a chance to see a part of the island that you otherwise wouldn't get a chance to experience.
Lemnos offers visitors the ideal opportunity to experience the more traditional side of Greek life. Because the island is fairly isolated, that means that western influence isn't as prevalent here. While it does get a healthy crowd of visitors each year, it has still maintained its relaxed atmosphere.
PLEASE NOTE: The Greek travel section at GreekBoston.com are not paid reviews. Our unbiased and informative travel articles are designed review the popular cities, islands and places in Greece. We are not always able to exactly match the photos to the destinations, but we do try to get close. However, we are not looking for photo submissions at this time. If you find something in a Greek travel article that is not accurate based on your personal experience, please send us an email to greekboston@worldwidegreeks.com and we will consider your suggestions. Thanks for reading the travel section at GreekBoston.com!
Categorized in: About Lemnos, Greece, Greek Travel Guide
This post was written by GreekBoston.com
Share this Greek Travel Article: