Spend Time at Mandraki Beach in Sithonia
Written by Greek Boston in About Sithonia, Greece, Greek Travel Guide Comments Off on Spend Time at Mandraki Beach in Sithonia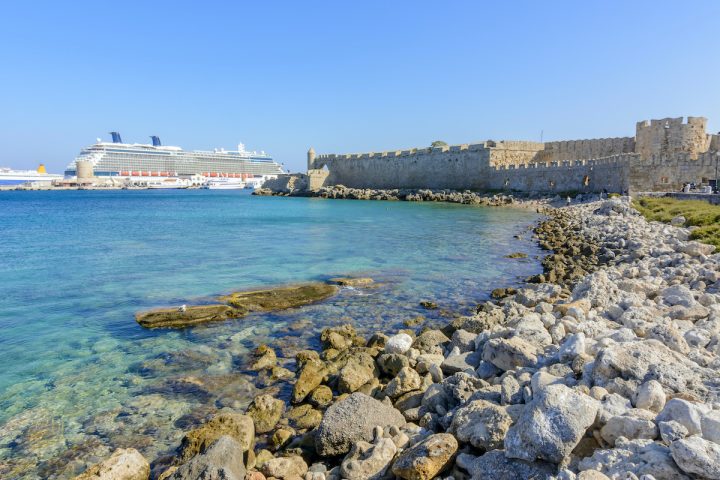 Visiting Mandraki beach in Sithonia, Greece leaves you with an amazing experience. Nestled between two majestic mountains, the turquoise blue waters dazzle, and the fine white sands blow you away. This beach is so beautiful it will leave you speechless and staring at it for more than five minutes. Continue reading to see why this little piece of paradise is not just one of the most beautiful views in Greece but also one of the gorgeous European beaches.
About Mandraki Beach
Mandraki beach is located on the island of Sithonia, Greece. It is one of the most popular beaches in the region, with a long stretch of sand, clear blue water, and calm waters that are perfect for swimming.
Mandraki beach is located in Agios Georgios village, a small settlement in the northern part of Sithonia island. This beach has a small pebble shoreline with shallow waters all around it. Its crystal clear waters make this beach ideal for swimming, snorkeling, and other water sports activities such as windsurfing.
Mandraki beach is known for its beautiful sunsets during the summer months, while at other times in wintertime, there are many shades of blues to be seen here due to low temperatures. There are also many trees lining up along this beach, which adds to its natural beauty, making it one of the most beautiful beaches in Greece.
What to Do at Mandraki Beach
Go for a Walk
The best way to enjoy Sithonia is to go for a walk. The island is small, and you can easily walk around it in an hour or two. If you want to see something interesting, just look around the village and find a place where there are many people.
If you want to explore more, there are some places that you should visit. First, if you want to see how the people live here, go down the stairs and look at the houses built on top of each other. In these houses, there are no windows but only holes in the wall through which you can see outside.
Another interesting place would be the church on top of a hill with a beautiful view over Sithonia beach. You can find it by following one of the paths which lead down from the main square in Sithonia village towards its southern part.
Eat a Meal by the Beach
The restaurant at Mandraki Beach was built especially for visitors who want to spend time on this wonderful beach. It offers traditional Greek food like grilled octopus and grilled fish and other delicious dishes such as souvlaki or gyros sandwiches with fries. You can also order fresh seafood, including mussels or oysters, wine, or beer if you prefer alcoholic beverages over soft drinks or water.
The restaurant at Mandraki Beach also has a large menu of hot and cold snacks, from salads to soups to sandwiches and pastries, all made using fresh ingredients from the local market. If you are looking for something more substantial than a snack, there are several options for larger meals, such as grilled chicken and lamb chops.
Swimming
The water is crystal clear and has a pleasant temperature. The water temperature is around 26°C, which makes it ideal for swimming in Greece waters of Mandraki Beach are very clear, so you can easily see the bottom of the sea. There are no dangerous currents, and it is safe to swim. The beach is not very crowded, so you can enjoy your time without many people.
The best way to go through the water at Mandraki Beach is to wear as little clothing as possible. You can put on swimming trunks or even just a bathing suit if you want to stay safe and warm while bathing.
You will find many different kinds of chairs and benches where you can sit down after swimming in the sea or having fun with your family or friends at the beach.
Go Snorkelling or Scuba Diving
Snorkeling and scuba diving are the most popular activities at Mandraki Beach. The water is crystal clear, and there are no strong currents, making it safe for beginners.
Snorkeling can be done with a mask and fins or by simply laying on your stomach and floating in the ocean. If you prefer to swim in the ocean, you can rent snorkeling gear from the beach.
The best time to snorkel varies depending on the season, but it's usually around sunset when sea turtles come out to feed on plankton. The water is also warm enough to swim without a jacket (depending on the weather).
Sunbathing
Sunbathing on Mandraki Beach is a must-do in Sithonia. It is not just because of the beautiful view, but also because of the great weather conditions.
The beach is situated at the head of a bay, which has an opening towards the sea and is surrounded by high cliffs. It's a great place for sunbathing and swimming in warm waters. There are also many umbrellas and sunbeds for rent at Mandraki Beach, but you should book them in advance if you want to be sure that there will be one available when you arrive at the beach.
Getting to Mandraki Beach
There are two ways to get to Mandraki Beach: by boat or foot. You can take a taxi boat from Agios Ioannis or Psarou Beach to Olympos Beach Hotel. You can also walk there if you have time and energy – just follow the path through forests and fields until you reach the beach.
Mandraki Beach is ideal for people to relax on their holidays and enjoy the vacation experience. The sea is clean and has plenty of life, the sand is soft and fine, the view is stunning, and there are many places to eat or drink near it. This beach offers plenty of opportunities for relaxation and fun during the day, but at night it becomes even more beautiful when the stars start to shine above you. Mandraki Beach is a great place for everyone of any age, so you should include it on your list of beaches to visit in Greece.
PLEASE NOTE: The Greek travel section at GreekBoston.com are not paid reviews. Our unbiased and informative travel articles are designed review the popular cities, islands and places in Greece. We are not always able to exactly match the photos to the destinations, but we do try to get close. However, we are not looking for photo submissions at this time. If you find something in a Greek travel article that is not accurate based on your personal experience, please send us an email to greekboston@worldwidegreeks.com and we will consider your suggestions. Thanks for reading the travel section at GreekBoston.com!
Categorized in: About Sithonia, Greece, Greek Travel Guide
This post was written by Greek Boston
Share this Greek Travel Article: