Outdoor Sports to Enjoy in Antiparos, Greece
Written by Greek Boston in About Antiparos, Greece, Greek Travel Guide Comments Off on Outdoor Sports to Enjoy in Antiparos, Greece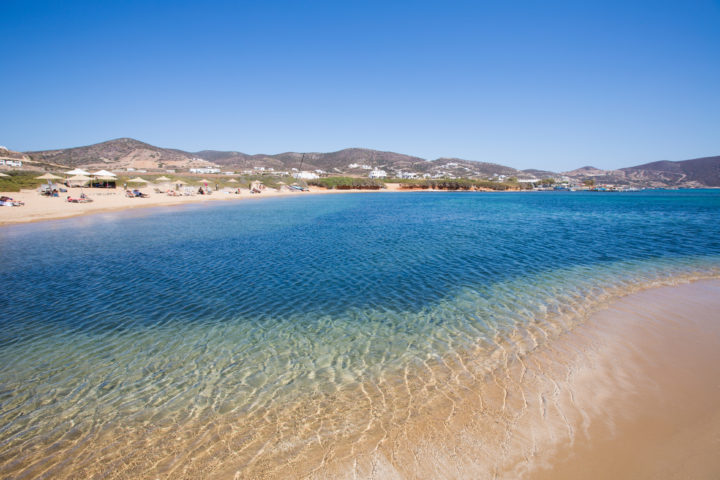 The small Greek island of Antiparos is located just a short distance by sea from the island of Paros. This means that even though it might be small, it is fairly easily accessed, especially if you originate at one of the nearby islands. Antiparos is known for its long and endless sandy beaches, mostly flat landscape, and vegetation that is short. Here are some of the outdoor sports you can enjoy while spending time in Antiparos, Greece.
Diving
The unique and varied coastline of Antiparos is ideal for those who love new and exciting diving experiences. There are two wrecks you can explore close to the island of Antiparos. One os these wrecks sank in 1882 while carrying iron ore. The other wreck was the M.S. Express Samina, a ferry that sank in 2000. Caverns , caves, and holes are found in abundance around the island of Antiparos.
They make great spots for diving exploration. One must-see is the Blue Hole where you can surface inside and breath in the air. Reefs have been created around Antiparos due to the volcanic nature in the area. Reefs rise slightly above the surface of the water or can be hidden underneath. Night dives are also available around Antiparos. Some dive sites include: Barracuda Point, Bubble Reef, the Canyons, and Red Rock.
Hiking
Hiking is the perfect way explore Antiparos, Greece. There are a number of hiking routes to enjoy when you are on the island. There is an 11 km hike that is slightly challenging and takes you around the northern coast of Antiparos. This hike starts in town and goes along secluded beaches and rugged hillsides. As you hike this beautiful route, you will be treated to sea views to the north, west, and northwest.
This hike will allow you to experience a bit of everything. Another hiking route on the island of Antiparos starts at Aghios Georgios Village and leads you up to the Chapel of Profitis Ilias and down again to Monastiria Beach. From the secluded beach you will go through the rugged Latomia area. This 13 km hiking trails allows you to experience wonderful landscapes, sea and mountain views, and old, forgotten shepherd's trails.
Water Sports
The island of Antiparos is the perfect destination for anyone who loves watersports. The bays, beaches, beautiful blue sea, and surrounding landscape make watersports wonderful to indulge in when visiting the island. In addition to diving, you can also go snorkeling, kayaking, stand-up paddle-boarding, surfing, and windsurfing. The straight between Antiparos and Paros is where the meltemia winds blow during the summer.
These are ideal conditions for windsurfing, which has grown in popularity around Antiparos. Glyfa Beach and Psaralyki Beach are perfect for windsurfing in Antiparos. The southern area of Antiparos is perfect for kayaking. The geology due to the volcanic activity has made it an interesting site to see. The coastline is home to high cliffs, different types of rocks, caves with two entrances, and long, narrow inlets.
There's a lot to do in the Greek island of Antiparos. However, one of the things it is most known for is the outdoors ports you can enjoy while here. You won't want to miss the chance to do any of these!
PLEASE NOTE: The Greek travel section at GreekBoston.com are not paid reviews. Our unbiased and informative travel articles are designed review the popular cities, islands and places in Greece. We are not always able to exactly match the photos to the destinations, but we do try to get close. However, we are not looking for photo submissions at this time. If you find something in a Greek travel article that is not accurate based on your personal experience, please send us an email to greekboston@worldwidegreeks.com and we will consider your suggestions. Thanks for reading the travel section at GreekBoston.com!
Categorized in: About Antiparos, Greece, Greek Travel Guide
This post was written by Greek Boston
Share this Greek Travel Article: