Hike the Samaria Gorge in Crete
Written by GreekBoston.com in About Crete Greece, Greek Travel Guide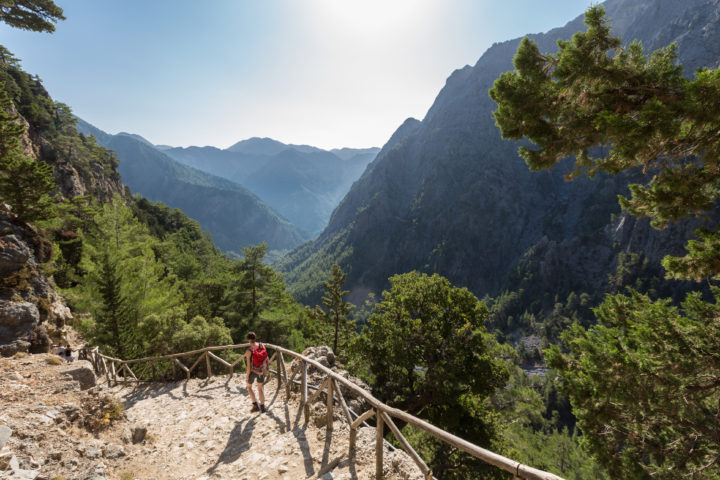 One of the highlights of Western Crete is the Samaria Gorge, located in the Hania region. The Samaria Gorge is Europe's longest gorge. It begins just below the Omalos Plateau and runs down through an ancient riverbed that flows between the peaks of the Avlimanakou and Volakias mountains to the Libyan Sea.
The Samaria Gorge is the home to varied wildlife including birds of prey and it shelters endangered species like Crete's kri-kri, a wild goat. To save the kri-kri from extinction, the Samaria Gorge became a national park in 1962. The Samaria Gorge is also known for its array of wildflowers that bloom in the spring. The width of the gorge varies from 150m to 3m and the vertical walls go up to 500m at some points.
There are numerous canyons in Crete, but the Samaria Gorge is the most hiked which is why it's important to start early to avoid the crowds. However, the crowds might be unavoidable in the summer since there can be over 1,000 visitors per day in July and August. The hike can take anywhere from four to six hours, depending on your speed. Since there is nowhere to stay overnight in the gorge, all hikes must be completed by the time the gate closes each day. Like any hike, you will need to bring good hiking boots, sunscreen, sunglasses, a hat, and plenty of water. Hikers need to be on alert for falling rocks and avoid hiking on exceptionally hot days. In fact, the gorge might even be closed if it is too hot.
During the hike, visitors will come across a number of sights. The first noteworthy site is the abandoned settlement of Samaria. The inhabitants were relocated when the gorge became a national park. The next sight is a small church that was dedicated to St. Maria of Egypt, whom the gorge is named for. This is just south of the abandoned village. Perhaps the most noteworthy sight on the hike is the Iron Gates. This is where the walls are only 3.5m apart. A rickety wooden pathway leads hikers across the water. The hike ends by the seaside resort of Agia Roumeli which features a pebble beach where hikers can go swimming after a day of hiking.
There are plenty of ways to get to the Samaria Gorge. Nearly all sizable towns and resorts in Crete plan excursions to the Gorge. If you are already in the Hania region you can take a bus there. At the end of the hike a boat will take you to Sougia and then you can take a bus back to Hania.
If you prefer to stay away from the crowds there are lesser-known gorges to visit, like Aradena which runs parallel to Samaria.
Categorized in: About Crete Greece, Greek Travel Guide
This post was written by GreekBoston.com
Like this article? Please share below: