About Heraklion: The Largest City On Crete
Written by Greek Boston in About Crete Greece, About Heraklion, Greece, Greek Travel Guide
Home to over 600,000 people, Heraklion is the capital, as well as the largest city, of the island of Crete, which means that there is plenty to do if you are a tourist.
The first attraction that I'm going to share with you is something that I would fly all the way to Heraklion just to do. It's called Escape House, and it's guaranteed to rival the most fun experience you've ever had in your entire life. Each room in the house is a different themed mystery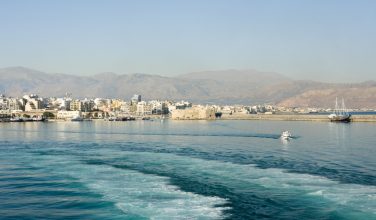 game that you and your group get to participate in, with the object of the game, of course, being to escape from the room. For example, there is an explosion room. The game is that you and your group are locked in a room and there is a ticking time bomb with 45 minutes on the clock. You and group must figure out who brought you there, who locked you inside, and for what reason? But most importantly, you must figure out a way to get out of the room before the clock hits zero! Escape House is a perfect activity for travelers of all ages, and is really affordable.
If you are traveling with kids, you'll want to check out the Cretaquarium Thalassocosmos. This aquarium will have the children wide-eyed and fascinated, as they bounce around from tank-to-tank. You'll want to get there early to beat the crowds, but even without the foot traffic, you'll want to set aside about two to three hours if you wish to see everything that this aquarium has to offer.
Heraklion boasts some of the most amazing museums in all of Greece, with the Herakleion Archaeological Museum being one of the best. There is so much to see in this museum that you can easily look up and see that four hours have gone by. The museum itself is beautiful, as it was recently renovated, but the museum also does a magnificent job of detailing the history of the ancient Minoan artifacts that they have on display. Each of the displays are labeled in both Greek and in English.
Another fantastic museum is the Historical Museum of Crete. Each room is themed with plenty of text panels that are full of information, detailing the history of the island of Crete. This museum is well worth your time while you're on the island.
Lyrarakis Winery is often referred to as the best winery on the island of Crete. When you visit Lyrarakis Winery, you'll be taken on a tour of the winery and given a great history lesson of the winery and the process in which their wines are made. The tour concludes with a wine tasting, with cheese and crackers, which includes several different wines that are made at the winery. As one would probably guess, these wines are available for purchase at the end of the tour. The staff is terrific, and this is sure to be one of the highlights of your trip to Heraklion.
Finally, you'll want to see the ancient site of the Palace of Knossos. Take a guided tour so that you can fully appreciate what it is that you're seeing with your own two eyes, and walking on with your own two feet. You won't believe it!
PLEASE NOTE: The Greek travel section at GreekBoston.com are not paid reviews. Our unbiased and informative travel articles are designed review the popular cities, islands and places in Greece. We are not always able to exactly match the photos to the destinations, but we do try to get close. However, we are not looking for photo submissions at this time. If you find something in a Greek travel article that is not accurate based on your personal experience, please send us an email to greekboston@worldwidegreeks.com and we will consider your suggestions. Thanks for reading the travel section at GreekBoston.com!
Categorized in: About Crete Greece, About Heraklion, Greece, Greek Travel Guide
This post was written by Greek Boston
Share this Greek Travel Article: