What to do in Sami Village on Kefalonia
Written by Greek Boston in About Kefalonia Island, Greece, Greek Travel Guide Comments Off on What to do in Sami Village on Kefalonia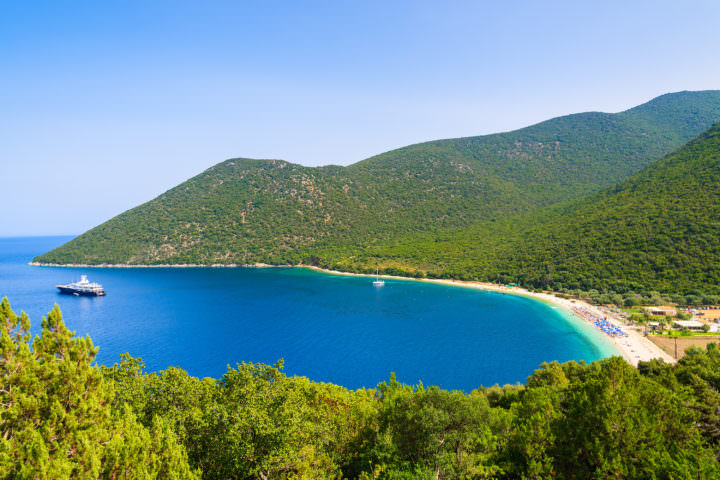 Kefalonia is one of those islands that seems to be in a world all its own. The island itself is stunningly beautiful, and people flock here to enjoy its natural beauty. Sami Village is one of those places that people seem to flock to each year, and it also provides a great home base by which to explore. Visitors will have access to resorts, beaches, caves, and other sites.
Although an earthquake devastated most of Sami Village in the 1950s, much of it has been rebuilt since then. Because of this natural catastrophe, locals were forced to rebuild everything in the town from scratch. As a result, Sami isn't really known for its old architecture like some of Greece is. Rather, the buildings here look new and vibrant. However, around Sami Village you'll find plenty of Roman baths, Venetian architecture, and even a few monasteries.
Interested in heading to Sami Village? Here's more information about what you can do while here:
Antisamos Beach
The best-known beach in Sami is called Antisamos. As you might've already guessed, Antisamos is so popular because of a connection to the island's favorite flick: Captain Corelli's Mandolin. While Antisamos has some caché for being featured in a major Hollywood film, it hasn't sold itself out. You won't find any corny stands here selling Nicholas Cage shirts. At Antisamos you'll just find the brilliant blue waters and white stone beaches so beloved in the Greek isles. Believe it or not, some people visiting Sami Village say Antisamos is one of the best white stone beaches in all of Greece.
Melissani Cave
After Antisamos, the main tourist draw in Sami is the interesting Melissani Cave. Measuring 160 meters long and 40 meters wide, this major cave is full of bright blue water and well over 16,000 stalactites. Archeologists who have excavated this cave say they have found religious artifacts dating back to at least the fourth century BC.
Drogorati Cave
Another nearby cave to explore is called Drogorati Cave. Some picky tourists say they're a bit disappointed to find fewer stalactites in Drogorati than in Melissani…but don't let those party poopers dissuade you from visiting this cave. Locals believe this cave has less natural treasures than Melissani because of German troops raided the cave in WWII. Despite this loss of stalagmites/stalactites, Drogorati Cave is quite impressive and not to be missed by travelers to Sami.
The great thing about Sami Village is that you can easily schedule voyages either by boat or taxi. Anyone feeling like a day-excursion can easily book a boat ride from Sami Village to Homer's mythic Ithaca or around the other stunning beaches of Kefalonia. However, once you get to Sami Village, you'll find that you can easily spnd a lot of time here. Besides visiting these sites, you should also explore some of the delicious restaurants located on the Sami harbor. You can also explore the various shops. Heading to Sami Village will give you experiences that you won't want to miss out on!
PLEASE NOTE: The Greek travel section at GreekBoston.com are not paid reviews. Our unbiased and informative travel articles are designed review the popular cities, islands and places in Greece. We are not always able to exactly match the photos to the destinations, but we do try to get close. However, we are not looking for photo submissions at this time. If you find something in a Greek travel article that is not accurate based on your personal experience, please send us an email to greekboston@worldwidegreeks.com and we will consider your suggestions. Thanks for reading the travel section at GreekBoston.com!
Categorized in: About Kefalonia Island, Greece, Greek Travel Guide
This post was written by Greek Boston
Share this Greek Travel Article: