Museums to Visit in Samos, Greece
Written by Greek Boston in About Samos, Greece, Greek Travel Guide Comments Off on Museums to Visit in Samos, Greece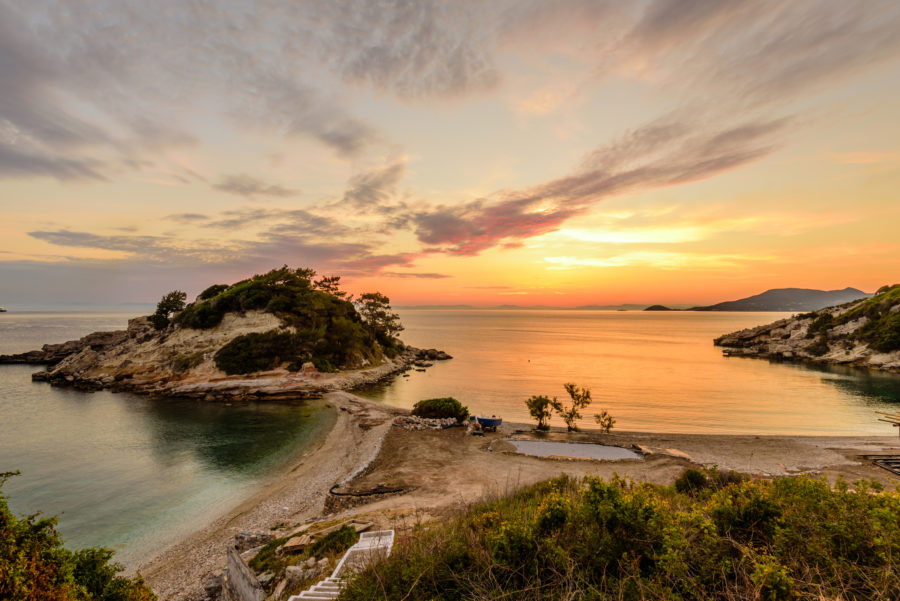 The island of Samos,Greece is located in the eastern Aegean Sea. The island is separated from Turkey by the Mycale Strait. Samos has tropical seashores, trails made for hiking, and mountain slopes that are home to traditional settlements.
There are a number of archaeological sites on the island of Samos. It's also the birthplace of Hera, Queen of the Gods; Aristarchus, the astrophysicist; and Pythagoras, the mathematician. The island is also known for its production of Muscat wine. It's no surprise that with so much history, Samos is home to many museums for your enjoyment.
Paleontological Museum of Samos
The Paleontological Museum is located in the village of Mytilinii. The museum is made up of the natural history museum and the paleontological museum. Exhibits include rocks and minerals, marine life, a botanological collection, a zoological collection, and a paleontological collection. If you love and want to learn more about natural history, this museum is the perfect place to visit. You will be able to see findings from excavations around Samos up close. There are 300 types of minerals and rocks, 500 types of shells, and many birds, reptiles, and animals for you to explore.
Wine Museum of Samos
The Wine Museum of Samos is housed in a 19th century building and used to be a private winery and later a warehouse and barrel-making facility. The Wine Museum opened in 2005. Exhibits at the museums include: wine production records, old photographs, barrel-making tools, old winemaking machinery, collectible bottles, and much more. The exhibits showcase the historical and cultural importance of Samian wine. When you visit the Wine Museum of Samos, wine tasting is available. You can also purchase wine.
Archaeological Museum of Pythagorion
Located in the town of Pythagorio, this museum houses findings from excavations at Heraion and other locations around the island of Samos. Collections include: pottery from the 9th to the 2nd centuries BC, relief funeral banquets, and portraits of Roman emperors. There are many interesting items on display such as marble portraits of Claudius and Augustus, a statue of the emperor Trajan, a small poros grave stele dated to 530 BC with the inscription "Diagoros of Delos," and a marble sarcophagus in the shape of a temple.
Folklore Museum of Samos
Founded in 1997, The Folklore Museum is housed in the Doryssa Bay Hotel in Pythagorio. The museum itself is influenced by traditional Samian architecture. It was created as a way to present the daily life of the island up to the Second World War. Exhibits at the Folklore Museum of Samos include: agricultural tools used by farmers (plows, sickles, spades), bread-making equipment such as rolling pins, hand mils, and clay bowls, instruments used to extract honey and make wax, a needlework collection, and even a replica of a 1930s Samian house with authentic furniture. If you're interested in seeing how the people of the island of Samos lived and worked, this museum is a must-see.
Visiting the island of Samos will give you many opportunities to see the history behind the island.
PLEASE NOTE: The Greek travel section at GreekBoston.com are not paid reviews. Our unbiased and informative travel articles are designed review the popular cities, islands and places in Greece. We are not always able to exactly match the photos to the destinations, but we do try to get close. However, we are not looking for photo submissions at this time. If you find something in a Greek travel article that is not accurate based on your personal experience, please send us an email to greekboston@worldwidegreeks.com and we will consider your suggestions. Thanks for reading the travel section at GreekBoston.com!
Categorized in: About Samos, Greece, Greek Travel Guide
This post was written by Greek Boston
Share this Greek Travel Article: