Museums to Visit in Kythnos, Greece
Written by GreekBoston.com in About Kythnos, Greece, Greek Travel Guide Comments Off on Museums to Visit in Kythnos, Greece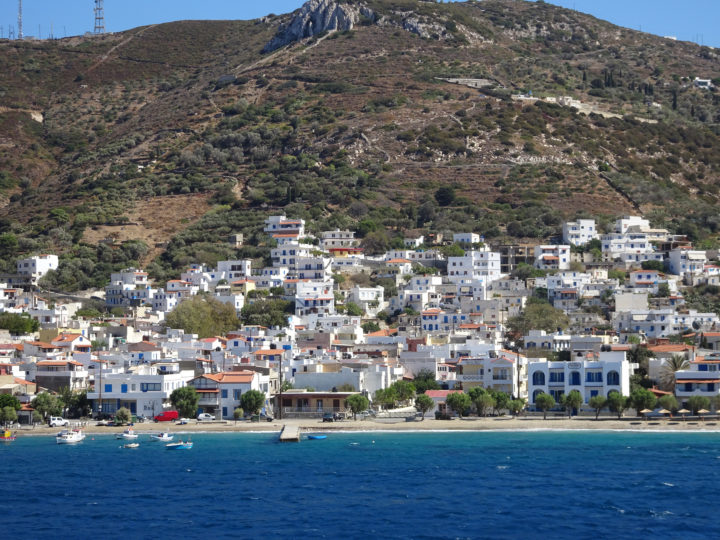 The Greek island of Kythnos is full of mystery and unrivaled beauty. The traditional architecture of Kythnos, makes it one of the most impressive place to visit in the Cyclades. The history of the island is also worth discovering. When visiting Kythnos, Greece, spend time at these museums that will take you back in time and through the traditions of the island.
Byzantine Museum of Kythnos
Housed in a the whitewashed Church of Agios Georgios in the village of Driopida is the Byzantine and Ecclesiastical Museum of Kythnos. The church is known for its flat blue roof. Inside the museum you an view the collection of 150 Byzantine and post-Byzantine icons, 90 ecclesiastical books, some Orthodox crosses, priest clothes, and manuscripts. Some of the books and icons at the Byzantine Museum of Kythnos are rare items from the 18th century that were created by the monks of Mount Athos. The village of Driopida in Kythnos is home to whitewashed houses with tiled slanted roofs and narrow streets. The upper town streets are more lively while the lower town is home to classic houses.
Archaeological Museum of Kythnos
The island of Kythnos has a rich history and abundance of archaeological sites. The findings from these sites are housed at the museum. One of the most important archaeological sites of the island is Vryokastro, which is located at the northwest area. Vryokastro is known as the ancient capital of the island.
A study of the findings, which include jewelry made of copper, silver, gold, crystal, and amber to name a few, clay figurines, vases, and much more are helping to create the Archaeological Museum of Kythnos. Items showcases at the museum are from excavations around the island that took place between 1990 – 2009.
These items include statues, pottery, tools, and more and come from not only Vryokastro, but also Maroulas, Castle of Oria, Kastellas, Skouries, and Mandraki. The time periods of the finds are from the Mesolithic to the Early Cycladic, the Archaic times, the Classical times, the Hellenistic Times, and the Roman period.
Folklore Museum of Kythnos
The Folklore Museum of Kythnos is housed in an old listed house in Driopida. The house is located behind the Church of Agioi Apostoloi. The Folklore Museum was founded by the residents association. The museum showcases collections of agricultural tools, folklore artifacts, and traditional costumes.
Many of the traditional costumes are of travelers. Also displayed at the museum are the furnishings from a monk's cell, bedclothes, and various pieces of embroidery. On the first floor of the museum is a replica of an authentic traditional house of Thermia, which includes a bedroom, living room, and kitchens.
There are plenty of great museums to see in Kythnos, Greece. You should consider visiting some of them while here!
Categorized in: About Kythnos, Greece, Greek Travel Guide
This post was written by GreekBoston.com
Like this article? Please share below: