Things for Families to Do in Nafpaktos, Greece
Written by GreekBoston.com in About Nafpaktos, Greece, Greek Travel Guide Comments Off on Things for Families to Do in Nafpaktos, Greece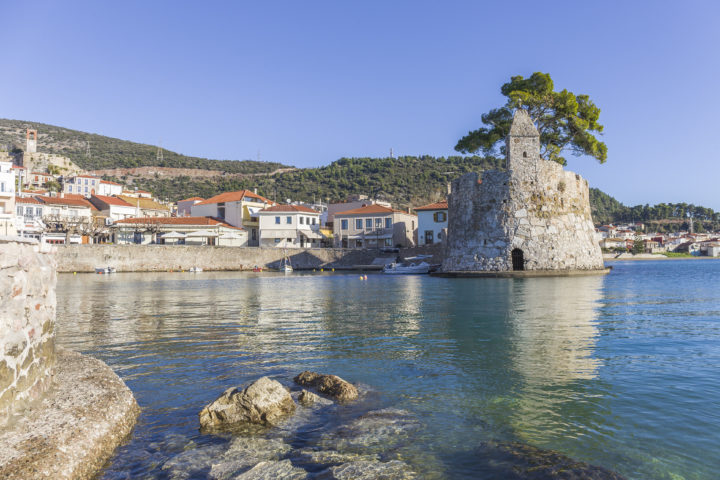 Nafpaktos, Greece is known for its Medieval charm, beautiful landscape, and trademark port. At the port, the entire family will enjoy viewing the colorful boats that moor there during the summer months. When visiting Nafpaktos, Greece with the family, you will find plenty of options to keep everyone happy. Here are some of the things your family will enjoy.
Spend Time at the Beach
Nafpaktos is home to two blue flag beaches. Gribovo Beach and Psani Beach are both child and family friendly beaches. The sandy beaches both feature shallow water that makes them safe for small children. Psani Beach has two playgrounds that your children will enjoy. There is also a tennis court where your family can play a game. These two beaches are divided by the port, so if you want to get from one to the other, you don't have to travel far. Your family will have fun swimming and playing in the sand at the beaches of Nafpaktos.
Visit Nafpaktos Castle
Nafpaktos Castle is the perfect place for families to visit. Kids and adults alike will enjoy touring the Venetian Castle. This is one of the most beautiful castles in Greece. It is also quite well-preserved. Nafpaktos Castle boasts fortification that went through many phases from ancient times, through Venetian times, and its completion by the Turks.
The castle has five defensive walls that protected the people of Nafpaktos during the wars. The walk to the castle is equally interesting. You will see the Ottoman baths near the Nafpaktos Clock Tower. From the clock tower to the castle, you will experience wonderful views. All of these spots make great photo opportunities.
Have an Outdoor Adventure
If your family loves adventures and trying new things, you might enjoy rafting. Rafting down the Evinos River is a unique and fun experience. Children as young as 5 years old will be able to parktake in this activity. Safety precautious are always taken and guides are experienced. Other activities you can enjoy in Nafpaktos are mountain biking, archery, and hiking. Hiking is a great way to explore the island of Nafpaktos on foot and at your own pace.
Explore the Old Port
The Old Port of Nafpaktos is a great place for the family to explore. The walled port is well-maintained with great views including that of the castle. The Old Port is located near the central square where you will find many cafes to enjoy a drink or meal. Swimming at the nearby beaches is a great way to round out an afternoon of exploring the port. Go for a walk at night to enjoy the picturesque town by the sea when it comes alive. The Old Port is a great place to go for a relaxing walk with the family.
Nafpaktos, Greece is a wonderful destination for families. Whether you're looking for relaxation, adventure, or exploration, you'll find it in this historic and charming town.
Categorized in: About Nafpaktos, Greece, Greek Travel Guide
This post was written by GreekBoston.com
Like this article? Please share below: