Naoussa in Paros Makes a Great Spot To Vacation
Written by Greek Boston in About Paros, Greece, Greek Travel Guide Comments Off on Naoussa in Paros Makes a Great Spot To Vacation
Paros is one of the most unique islands in all of Greece. There are so many spots throughout the island to enjoy, it can be overwhelming. Naoussa is one of those villages that is worth a visit. Here are some things you can do while there:
Enjoy the Outdoors
Naoussa is known for its parks, but there is much more to Naoussa than just parks. There is a beautiful area in Naoussa that almost reminds me a little bit of Paros, and it's called the Old Port of Naoussa. You can sit at a table right next to the water and eat some of the finest Greek seafood that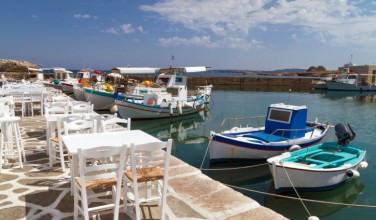 you will ever have, at several different restaurants. The outdoor atmosphere is breathtaking, especially if you happen to catch the sunset during dinner time. There are plenty of bars and restaurants in this area, all with freshest fish around. Overall, this is just a great area to just walk around and enjoy the scenery.
Take a Boat Cruise
But if seeing that sunset from land isn't good enough for you — which I would advise not to be satisfied with just that view — then you need to take a cruise with Michael Zeppos' Cruise Boat Day Tours. The boat that you will be traveling on is a really nice fishing boat that has been completely renovated to ensure both the safety and comfort of its passengers. All kinds of food is available to the guests, including a prepared lunch that is fantastic. Sit out on the deck and get a tan, dive in the water to cool off, go snorkeling, see all the amazing sites that there are to see in the area, enjoy a breathtaking sunset with nothing around you but the sea, but most importantly, have an incredibly relaxing experience.
Take Sailing Lessons
Have you ever wanted to learn how to sail, but you just never had the time or the opportunity? Well, now you do! At Dinghy Sailing School, your level of experience does not matter. From rookies looking to take up a new hobby, to seasoned veterans looking to improve their skills, this school is both safe and professional with the goal in mind to make you the best sailor you can possibly be. The instructors also do a really great job when they're working with kids. It's a great experience, and it's the perfect activity if you have some time to kill.
Take a Cooking Class
I can't even tell you how many times I've heard the excuse, "Well, I'd cook if I knew how!" It seems a little unorthodox to take up a cooking class when you're back home, going about your normal everyday life. How about taking up a cooking class while you're on vacation? If this is something you would be interested in, then you have to check out Cooking Class at Margarita Studios. They have gotten really great reviews, and for good reason. You will learn how to cook several dishes, using ingredients that have been handed down several generations.
Tour a Winery
Naoussa also has a ton of orchards in or around the city, featuring all different kinds of fruits. And as you can probably imagine, the large quantity of orchards means that there are plenty of wineries around. The winery that we suggest you take a trip to see is Moraitis Winery. This winery offers a nice little tour of the winery, a free wine sampling, and the opportunity to purchase their wines at a discounted rate from what you'd be able to buy them for in stores. These are all things you can look forward to when visiting Naoussa in Paros!
PLEASE NOTE: The Greek travel section at GreekBoston.com are not paid reviews. Our unbiased and informative travel articles are designed review the popular cities, islands and places in Greece. We are not always able to exactly match the photos to the destinations, but we do try to get close. However, we are not looking for photo submissions at this time. If you find something in a Greek travel article that is not accurate based on your personal experience, please send us an email to greekboston@worldwidegreeks.com and we will consider your suggestions. Thanks for reading the travel section at GreekBoston.com!
Categorized in: About Paros, Greece, Greek Travel Guide
This post was written by Greek Boston
Share this Greek Travel Article: