Passing By Rethymnon or Heraklion? Visit Arkadi Monastery
Written by GreekBoston.com in About Rethymno, Greece, Greek Travel Guide Comments Off on Passing By Rethymnon or Heraklion? Visit Arkadi Monastery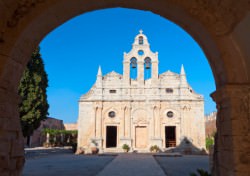 While visiting Crete, if you're looking to take in all the island has to offer, you'll most likely jump from city to city. If you decide to take a trip from Heraklion to Rethymnon (or from Rethymnon to Heraklion), it is worth making a little side trip to the Arkadi Monastery. Located 23 km (14 miles) southeast of Rethymnon, the Monastery is easily accessed off of the main highway that connects Heraklion and Rethymnon. The monastery dates all the way back to the 1600s, when the Venetians ruled Crete. At first glance, the monastery looks like an Italian church due to Venice's influence of the area at the time. However, the Arkadi Monastery belongs to the Orthodox priesthood.
History of the Arkadi Monastery
The Monastery is located on a rectangular plateau on the northwest side of Mount Ida. The plateau is known as the Arkadi plateau. There is speculation that a site of worship was built dating as far back as the 5th century AD, but there is little proof of its existence. However in the 1500s, the current monastery was built, heavily influenced by Italian architectural styles that came from the Venetians who at the time had control of the island of Crete.
The Monastery has had two very important roles in the history of Crete. Starting in 1645 the Ottomans from Turkey began to take over control of the island from the Venetians. For the next two centuries as the Ottomans took control, Cretan rebels frequently engaged in uprisings against the Ottoman Empire. On November 9, 1866 during a major uprising many Cretan insurgents including men, women, and children took refuge at the Monastery. When the Turks besieged the Arkadi Monastery during the battle, those taking refuge inside refused to surrender even when the Turks broke through the gate.
It is commonly believed that the abbot, Abbot Gabriel ordered that the rebels set fire to the gunpowder storeroom while others believe that the explosion was caused by an accident. The explosion killed hundreds, consisting of civilians, Cretan rebels, and the Turks who had invaded the Monastery. There is a memorial on site commemorating the Cretans who gave their lives for their country. During World War II, the Monastery became a center of resistance yet again when the Nazis occupied the Island.
How to Get There
There is a KTEL bus that runs from the bus station in Rethymnon directly to the monastery. You can also take a taxi to the area but it can get expensive. If you have rented the car, getting to the monastery is easy. From Rethymnon take the National Highway about 6km to the exit for Tsesme – Platania. The exit is also accessible if you are driving from Heraklion, though it will take over an hour to get there from Heraklion. Consider making the monastery a stop on trip on your way to Rethymnon from Heraklion or a day excursion if you are staying in the Rethymnon area.
Categorized in: About Rethymno, Greece, Greek Travel Guide
This post was written by GreekBoston.com
Like this article? Please share below: