Why You Should Visit Spetses
Written by GreekBoston.com in About Spetses, Greece, Greek Travel Guide Comments Off on Why You Should Visit Spetses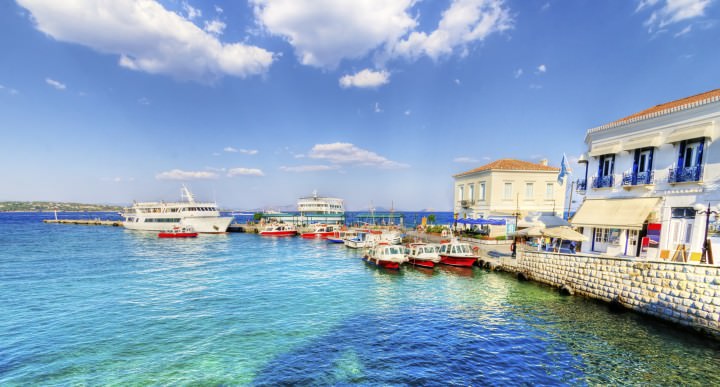 Spetses is an island in Greece located in the Saronic Gulf that offers people a beautiful island escape. Though much of the island was ravaged by forest fires several years ago, the great pine forests that characterize the island are still prominent enough to be noticeable. If you decide to visit Spetses Town, the main city on the island, you will also be treated with another relaxing element – there are no cars allowed in all the main areas, which contributes to the peaceful feeling that you have while here. Even though tourism officially began in the mid-1900, people have enjoyed spending time here for much longer than that. Thinking of spending time on this island? Here are some very good reasons why you should:
Relaxing Main Town
One of the things most Greek cities are known for is its nightlife and social scene. However, most of these places can get a little hectic – especially when the partying crowd comes out at night. In Spetses Town, however, that is not the case. Since no cars are allowed in most of the main areas, this gives the city a relaxed feel that larger cities just don't have. This means that you can shop, eat at a taverna, and hang out in a bar or club in a more peaceful setting. Don't miss some of the classy cocktail bars, which specialize in offering a relaxed nightlife feel while serving interesting drinks.
Gorgeous Natural Scenery
Since antiquity, this island has been known for its massive pine trees. In fact, these trees had been highly prized. Because they grow straight, they were the main trees that were used to make masts on ships. In fact, this became one of their major products. They were so important to the shipbuilding industry that it was over-harvested. For a while, the island looked like a barren wasteland until advocacy groups started planting trees and people were more careful about cutting them down. It's these trees that give the island such a distinct, beautiful look that can't be found elsewhere in Greece. People come here to not only enjoy the beaches, but also the forests. Also, don't miss some of the stunning beaches, such as the Agia Paraskevi Beach, which draws moderate crowds and affords beautiful views of the sea. Bekiri Cave is also a "must visit" because it allows you to explore another side of the island.
Experience a Part of History
Even though the island might be on he small side, it does have a rich history that is worth learning about. There are two main museums on the island – the Spetses Museum and Bouboulina's Museum. Both of these are on the small side, but they're chock full of information. You can take your time viewing the displays and reading the plaques, but they won't take a full day to navigate. This means that you'll have plenty of time after you leave to sit at the beach or enjoy some of the nightlife.
Categorized in: About Spetses, Greece, Greek Travel Guide
This post was written by GreekBoston.com
Like this article? Please share below: