Don't Miss the Springs of Kalithea While on Rhodes
Written by Greek Boston in About Rhodes Island, Greece, Greek Travel Guide Comments Off on Don't Miss the Springs of Kalithea While on Rhodes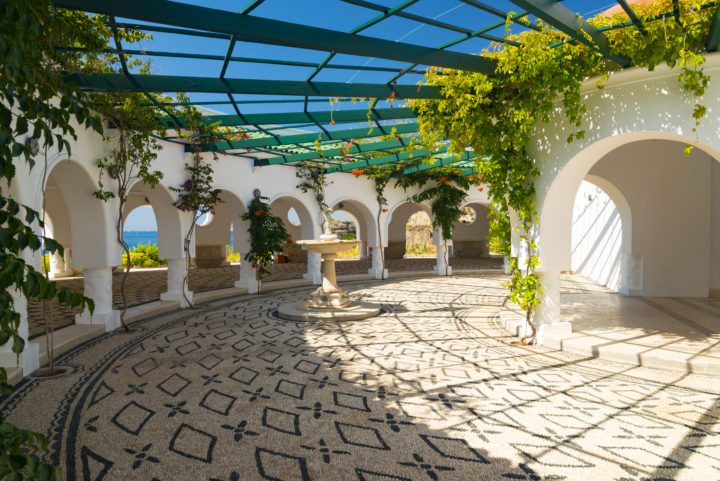 Once you set foot on Rhodes it is easy to see that there is something magical at work here. Rhodes feels as if it was transplanted from another time. Each segment of its long history is keenly felt here, including during the Medieval time period of Europe since it was the headquarters of the Knights of Saint John. However, there is another side of the island that is equally is mesmerizing. Rhodes is a gorgeous island, and there are plenty of ways to enjoy its natural beauty.
The Springs of Kalithea are one of the ways visitors can experience the beauty of Rhodes. Known since the days of Ancient Greece, these waters are said to have healing properties. Here's more information about visiting here:
Getting to Rhodes
Before you can visit Kalithea Springs, you first need to make your way to the island of Rhodes. Since it is a large island that sees regular visitors, there is more than one way to travel here. The easiest is to take a flight from Athens or elsewhere in Europe to the regional airport on Rhodes. There are flights that come into the airport regularly, especially from Athens. It is also possible to take a ferry here from various ports in Greece, especially from other islands in the Dodekanese Island Group, such as Kos, Patmos, Kalymnos, and Simi. There are no ferries from Piraeus. If you need to start your journey from there, you will need to make a transfer. Once you get to the island, the springs are located in Kalithea, which is about 14 kilometers from Rhodes Town.
Enjoy Kalithea Springs During Your Visit
As mentioned above, the Greeks have known about Kalithea Springs since ancient times. Known for its healing properties, people come from all over the world to relax in these waters. Whether you believe that the waters can heal your ailments or not doesn't actually matter. Spending time here will certainly make your day relaxing. However, it has been said that these waters can heal ailments such as arthritis, obesity, allergies, asthma, intestinal disorders and even cystitis. The healing nature of these waters has actually been studied officially starting in the early 1900's.
Know the History of the Springs
Today, there are buildings constructed over the springs to make it easier to enjoy the waters. The ones that are currently there were built in the 1920's and a man by the name of Pietro Lombardi was in charge of the project. Since the buildings were constructed, the springs started to really attract people from all over the world and are still being enjoyed today.
While visiting Rhodes, you won't want to miss the chance to head to Kalithea to experience these waters for yourself. However, the original building that was constructed in the 1920's fell into disrepair and the spa was abandoned. It has since been restored, which means that people can spend time in the healing waters once again.
PLEASE NOTE: The Greek travel section at GreekBoston.com are not paid reviews. Our unbiased and informative travel articles are designed review the popular cities, islands and places in Greece. We are not always able to exactly match the photos to the destinations, but we do try to get close. However, we are not looking for photo submissions at this time. If you find something in a Greek travel article that is not accurate based on your personal experience, please send us an email to greekboston@worldwidegreeks.com and we will consider your suggestions. Thanks for reading the travel section at GreekBoston.com!
Categorized in: About Rhodes Island, Greece, Greek Travel Guide
This post was written by Greek Boston
Share this Greek Travel Article: