Where to Celebrate Greek Mardis Gras (Apokries)
Written by Greek Boston in About Crete Greece, Greek Travel Guide Comments Off on Where to Celebrate Greek Mardis Gras (Apokries)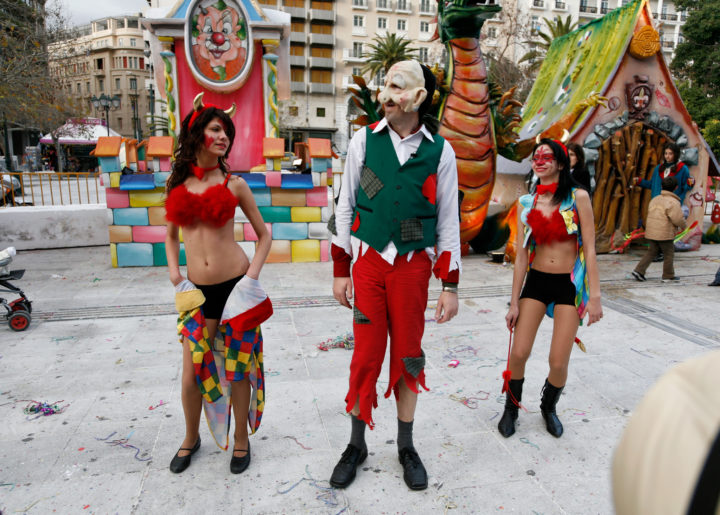 Mardis Gras, known as Carnival in some parts of the world and Apokries in Greece is a celebration that can be found in various cultures throughout the world. Carnival is designed as a celebratory time period that people can enjoy before Lent begins.
Great and Holy Lent is observed by Christians throughout the world, and Greece is no exception to this. It is a time for fasting and religious contemplation, and for many, the days of partying are put on hold until after Lent is over.
Here's more information about it Carnival (Apokries) in Greece:
What is Apokries?
Apokries is part of Greek Carnival celebrations, which take place just before Lent begins. Seen as a "last chance" to celebrate before the austerity kicks in, Apokries is a festive time. These celebrations are characterized by their happy nature. People of all ages hit the streets to watch parades, and there are private parties that take place all over the country.
Tsiknopempti – The Start of Apokries
Carnival in Greece, also known as Apokries,  begins on a Thursday about three weeks before lent. This day, which is known as Tsiknopempti, is a celebratory time. It is the kickoff of a time period that will enable people to have and get a little bit of partying out of their system before a strict period of fasting occurs. This is also a chance for families and friends to get together and celebrate.
It is during Tsiknopempti that people tend to dress in costumes and masks to celebrate. In fact, it is part of the fun! An easy way to dress in costume is to buy a traditional Carnival mask and wear it to a parade or a party. There are also some traditional masquerade balls that take place during this time where you typically wear formal outfits and also a fun mask that hides your eyes.
Are you thinking of celebrating Apokries (Mardis Gras) in Greece this year? These are the top destinations where you can do that:
Patras
Patras, which is located on the Peloponnese, is known for having one of the best and biggest Carnivale (Apokries) celebrations not only in Greece, but in the world! The season officially begins each year on Saint Anthony's Day, which is on January 17th. Leading up to lent, there are parades and other celebrations. People of all ages attend this celebration and it is known as being a festive event for adults and children alike.
The island of Crete also has several Apokries celebrations, but the one at Rethymno is the most popular. In fact, this is also considered to be one of the biggest in all of Greece. Since there was a Venetian presence at Rethymno, the Apokries celebrations have a lot of elements that are borrowed from them.
Corfu has a relatively small Apokries (Greek Mardis Gras) celebration, but it is still worth seeing, especially if you happen to be spending time on the island. This is the ideal celebration of those who want to experience Apokries in Greece while avoiding some of the larger crowds.
Although Athens isn't known for its Apokries celebrations in the same way that other destinations in Greece are, it is still possible to enjoy the festivities here. If you find yourself in Athens during this time, you won't want to miss the chance to celebrate. Ask at tourist information or at your hotel if you are already in the city so that you can find the best Apokries party. Most of the best celebrations ini Athens take place at the Plaka.
As the second largest city in Greece, Thessaloniki seems to come alive during Apokries. Although this festival isn't as large as it is on Patras or some of the other places in Greece, it is still possible to find some celebrations. Ask at your hotel for more information.
Apokries is a festive time in Greece, and it's absolutely worth visiting the country during that time.  Here's more information. 
PLEASE NOTE: The Greek travel section at GreekBoston.com are not paid reviews. Our unbiased and informative travel articles are designed review the popular cities, islands and places in Greece. We are not always able to exactly match the photos to the destinations, but we do try to get close. However, we are not looking for photo submissions at this time. If you find something in a Greek travel article that is not accurate based on your personal experience, please send us an email to greekboston@worldwidegreeks.com and we will consider your suggestions. Thanks for reading the travel section at GreekBoston.com!
Categorized in: About Crete Greece, Greek Travel Guide
This post was written by Greek Boston
Share this Greek Travel Article: