All About the Greek Mardi Gras (Apokries)
Written by Greek Boston in Modern Greek History Comments Off on All About the Greek Mardi Gras (Apokries)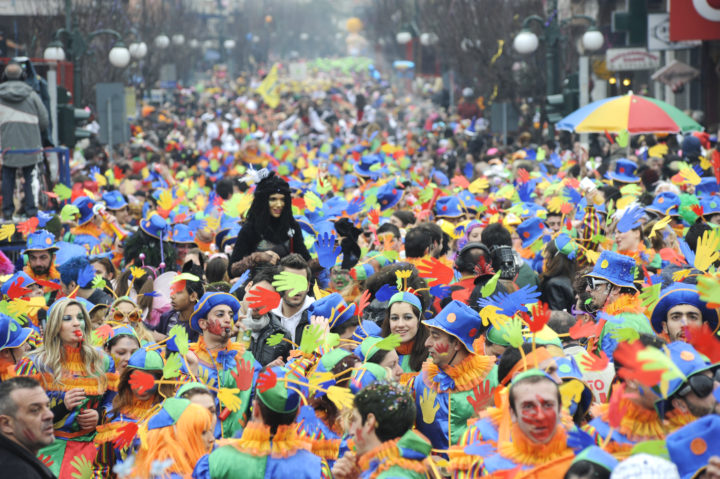 Every year, countries all over the world celebrate their version of what we refer to as Mardi Gras, or Carnival. Referred to as Apokries, Greece has its own version of this celebration. Each year, Christians undergo a period of fasting referred to as Great Lent. This is meant to be a highly religious, contemplative time. Apokries is a festive, celebratory time, designed to offer people one last chance to indulge before Great Lent begins. Here's more information about this celebration in Greece:
What is Apokries?
Technically speaking, Carnival season in Greece begins 40 days before the start of Great Lent. As is the case with many things in Greece, this celebratory time is closely tied to the Orthodox Church. The opening of the season always takes place on a Saturday in the church when the Triodion, a sacred book, is officially opened. This is a quiet, contemplative moment that takes place within the church. However, most Greeks understand that this is the start of a festive season. Carnival Season officially ends on Clean Monday, which is the official start of Lend is also a public holiday in Greece.
Celebrate Tsiknopempti
Tsiknopempti, translated as Burnt Thursday, takes place on a Thursday exactly eleven days before the start of Great Lent. The day is named for the multitude of grilled meats that are served during this day. The weekend following Tsiknopempti is where the highest number of parties and festivities usually take place associated with Mardi Gras (Apokries) in Greece. According to the Greek Orthodox Church, the Sunday of that weekend is the last day where meat is allowed before Easter.
Top Apokries Celebrations in Greece
Although Carnival is celebrated all over Greece, there are some places that stand out more than others. It is typical to dress in costume while attending these celebrations. Typical costumes include those of the Greek gods and goddesses, historical figures, clowns, and more. The goal of the costume is to make it difficult for people to recognize you, and that's often why people wear masks.
Here's a look at the best places to visit during Apokries:
Patras. This city contains the biggest Carnival celebration in Greece, and one of the biggest in the world. The festivities actually have their roots in ancient festivities dedicated to the Greek god Dionysius. Officially, Carnival Season in Patras begins on January 17th, or Saint Anthony's Day. The day is filled with parades and celebrations and is broadcasted on television.
Corfu. Although it is smaller than the celebration in Patras, Corfu is also known for its lavish celebrations. There are also parades here, and people gather in the streets to party.
Crete. If you would like to experience Apokries with a Venetian twist, be sure to head to Rethymnon, which has a clear Venetian influence.
Thassos. Many places in Greece have gotten a bit crowded during Greek Mardi Gras. If you want to avoid these crowds but still have a festive atmosphere, head to the island of Thassos!
You might notice that Greek Mardi Gras (Apokries) often takes place during a different time than Mardi Gras or Carnival does in the Western world. That is because the date for Greek Easter is often different.
Sources:
Categorized in: Modern Greek History
This post was written by Greek Boston
Share this Greek History Article: