Dressing in Costumes for Apokries
Written by Greek Boston in Modern Greek History Comments Off on Dressing in Costumes for Apokries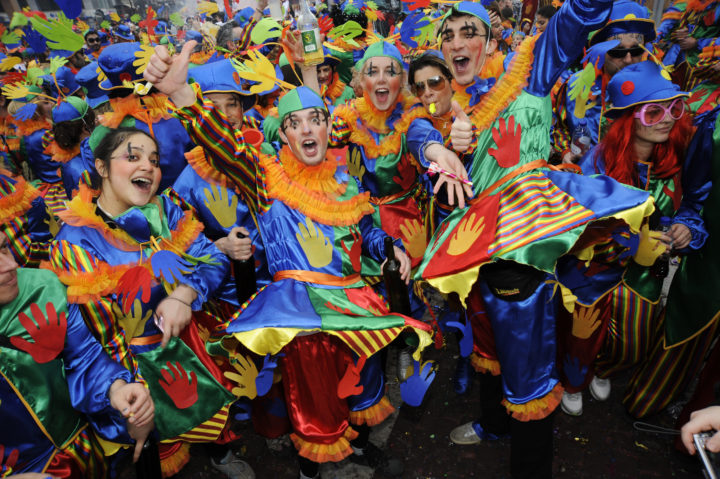 Although Apokries is part of Carnivale in Greece, it is also known as the Greek Halloween because this is when the Greek people tend to dress in costumes. Carnival typically takes place in the time period just before Great and Holy Lent, a time of year in the Orthodox Church that is characterized by a strict period of fasting just before Easter. Carnivale, or Apokries, is seen as an opportunity to get people to celebrate and let loose before Lent occurs.
As mentioned above, it is true that people enjoy dressing in costume during this time of year. Here's more information about this tradition:
What is Apokries Exactly?
Apokries takes places every year before Lent. It typically begins about a month before Lent starts. However, the main celebrations take place in the several days before the official start of the Lenten season. If you're interested in attending Apokries, you'll want to pay close attention to the events of the year. Since the date of Easter changes yearly, so will the dates of Apokries.
Where is Apokries Held?
Apokries is what Carnivale is called in Greece. There are multiple Carnivale celebrations located throughout the world and they all have the same idea. For example, those in the United States celebrate Mardis Gras in New Orleans. There are also top Carnivale celebrations in places like Rio de Jeneiro in Brazil, Cologne in Germany, and those in Venice in Italy. In Greece, the main Apokries celebrations occur in Greece in cities and towns like Athens, Patras (known as being one of the biggest), Thessaloniki, Crete, and Corfu. However, there are multiple celebrations that can be found throughout the country.
Why Do People Dress in Costume?
It has long been determined that costumes and masks give people a sense of freedom that they wouldn't otherwise have. Operating under a disguised identity is also a popular theme in Greek Mythology, and these themes are also touched upon in various literally works. For example, in The Bacchae, which was written by Euripedies, Dionysius, the god of wine, takes on many forms to create a sense of disorder. Zeus, the King of the Gods, is also known to have taken different forms in the various stories that include him. During Apokries, this same principal holds true. People love to dress in costumes and masks because it allows them the chance to let loose and have a good time while celebrating.
What Types of Costumes Do People Wear?
There are many types of costumes that people tend to wear during this time. Masquerade balls are common and for those, it is customary to wear formal attire but to hide your face with an elaborate mask. The goal here is that the mask be elaborate enough so that you aren't recognized. Other potential costume ideas include dressing as the various gods and goddesses from Greek Mythology, dressing as mythological creatures and heroes, and sticking to traditional, modern costumes such as those of animals, clowns, and recognizable figures from current events.
While celebrating Apokries, also known as Greek Halloween, it is customary to dress in costumes
Categorized in: Modern Greek History
This post was written by Greek Boston
Share this Greek History Article: