Choosing Gifts For Your Bridal Party
Written by Greek Boston in Greek Wedding Traditions Comments Off on Choosing Gifts For Your Bridal Party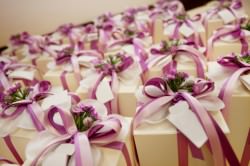 As anyone who has been married in the Greek Orthodox Church can attest to, Greek weddings are unique occasions. The ceremony is different from what the media typically portrays. Families can be boisterous and passionate. Weddings in general take a lot of careful planning and preparation.
It's your bridal party that has been with you every step of the way. They were there when your dress accidentally ripped under the armpit when you were trying it on. They helped you select the function hall, arrange for a DJ, and choose your flowers. If it weren't for them, your wedding may not be as carefully planned as it is now.
So, it is only natural that you want to find a way to thank them. It is customary in the United States to give your bridal party a gift. This is the best way to show your appreciation for the time and money that they have given to helping your wedding be a success.
Accessories to Match Their Gowns
One idea is to select accessories that will match their gowns. Select jewelry, such as an earring and necklace set that will perfectly match the gown. If you have money to spare, you can also give them a matching purse and even buy their shoes. This gift is not only thoughtful but also very practical. Chances are they would have had to purchase these accessories on their own.
Give the Gift of Entertainment
Another nice gift is to give your bridesmaids something that will bring them entertainment. Theater tickets, restaurant gift certificates, spa days, and even a vacation voucher are all thoughtful. She has sacrificed her personal time to be part of your wedding and this tells her that you want to help her get some of that personal time back.
Make Something Special
If you have the talent, you can make something meaningful as a gift. People love handmade gifts because they know that you spent your time to craft them. Ideas include hand knit clothes or scarves, candles, soaps, scrapbooks, and gourmet food and candies. This is also a good option if you're on a budget but still want to give your bridal party something nice.
Greek Themed Gifts
Because this is a Greek wedding, gifts that have a Greek theme are also a nice gesture. You can give Greek inspired jewelry such as earrings and pendants that have the popular Greek key pattern. This is especially meaningful if the jewelry matches the gown. Other ideas include clothing that has been Greek-inspired clothing, a bottle of Greek wine, and even a copy of the iconic movie, My Big Fat Greek Wedding.
Since the members of your bridal party have helped you through the process of planning your wedding, it is a nice gesture to get them something to thank them. The gift that you choose will depend on your budget and their personalities. No matter what you choose, they will definitely appreciate it.
Categorized in: Greek Wedding Traditions
This post was written by Greek Boston