7 Things You Should Do First When Planning Your Greek Wedding
Written by Greek Boston in Greek Wedding Traditions Comments Off on 7 Things You Should Do First When Planning Your Greek Wedding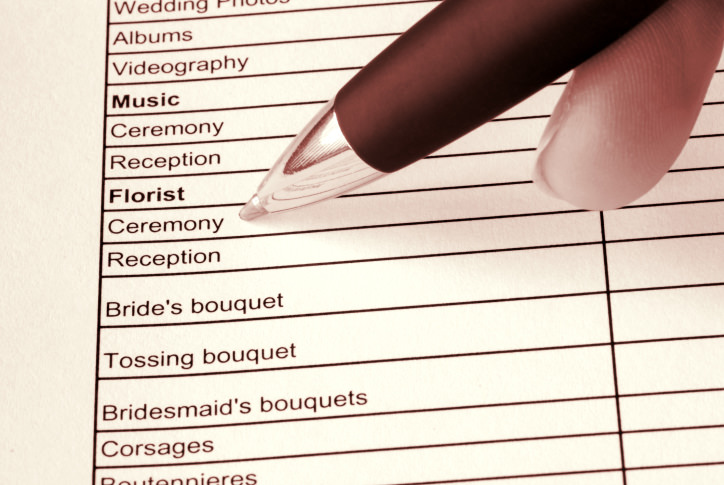 Planning a Greek wedding can be overwhelming. Every bride knows that once she gets engaged, she needs to start making arrangements or else she will fall behind on the wedding planning. However, plans can't be made at random.
By following a specific sequence, especially in the beginning stages, you can greatly increase your chances of planning the wedding of your dreams.
1) Meet With Your Priest
Do you plan on getting married in the Greek church? If so, then you should meet with your priest before you begin making your wedding plans. He will advise you on what process you need to take in order to get married in the church. While meeting with the priest, you can also set the date for your wedding.
2) Set a Budget
Your budget will help you determine what kind of wedding you'll plan. However, just because you are on a budget doesn't mean that you won't be able to plan the Greek wedding of your dreams. It just means you'll need to be careful how you spend.
3) Select Your Wedding Party
First of all, your priest will advise you to select your koumbaros or koumbara. For the Orthodox Christian wedding ceremony, this is an essential role. Not only that, but you will want to figure out who will be in your bridal party. Will you have bridesmaids, groomsmen, a ring bearer, or a flower girl? It's important to determine your bridal party in the beginning stages of planning the wedding.
4) Your Engagement Party
Having an engagement party is completely optional. However, a lot of couples choose to have one so they can celebrate with the people they care about the happiness of their engagement. If you plan on having an engagement party, you should do so after you set the budget to make sure you have enough money for it.
5) Determine the Reception Site
Once you know how much money you have to spend on your wedding, your next step is to figure out where the reception will be. Will it be at a restaurant, in someone's home, or will you host it at a reception hall? The location you choose will depend on a variety of factors such as size of the wedding, your budget, and the desired location.
6) Plan the Guest List
Before you can proceed any further with the wedding plans, you will need to figure out how many people will attend the wedding. This will affect most of the plans you will make such as where the reception will be, how many favors to purchase, and whether or not the budget you set is actually adequate.
7) Find the Wedding Dress
Another important element of wedding planning to ponder during the beginning stages of planning is to make sure you find your wedding dress. The earlier you do this the better because you may need to alter the dress several times to get it to fit perfectly. Not only that, but you will need enough time to find the accessories that will go with the dress.
When you plan your Greek wedding, getting these seven things out of the way as soon as possible will make the planning stages go a lot smoother.
Categorized in: Greek Wedding Traditions
This post was written by Greek Boston