Bridal Shoes – A Greek Wedding Tradition
Written by Greek Boston in Greek Wedding Traditions Comments Off on Bridal Shoes – A Greek Wedding Tradition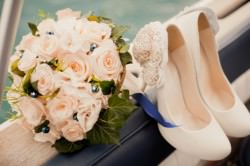 Are you getting married and want a traditional Greek wedding? This means not only having a ceremony in the Greek Orthodox church but also adhering to some of the other customs. For example, most of us still dance the kalamatiano, the traditional wedding dance, at our receptions. We also dutifully serve kourabedies, the traditional Greek wedding cookie and give our guests Koufeta as the traditional wedding favor.
The shoes are usually an afterthought. However, in the Greek culture, there are two traditions that involve the bride's shoes. So, not only do they need to perfectly match the dress and be stylish and comfortable, but they also need to be suitable for these two rituals.
Groom Buys the Shoes
In the United States, the bride buys her own shoes, or her family buys them for her. In Greece, the groom-to-be buys the shoes as a surprise to the bride. He tucks money into the shoes and either has them delivered to her or brings them to her himself. If he chooses to bring them, he will put the shoes on her himself. The money stays tucked in the shoe even while it is on her foot.
How does he choose the shoes he will buy? Bridal shoes are not that much different in Greece than they are in the United States. It is typical for the dress to be white which means that the shoes will be white as well. If he knows her size and he is sure her dress is white, any wedding shoe that he buys will be well received.
Writing Names on the Shoes
Another fun Greek wedding custom is that bridesmaids write their names on the sole of the bride's shoes as a way to determine who will get married next. Some brides determine that the last name to rub off will be the next person to get married. Others decide that the first to rub off will be the next to get married.
Bridesmaids have fun with this by being strategic about where they write their names. If she wants to get married she'll put her name in an area likely to give her the results she wants. They may also encourage the bride to dance more or less depending on their personal aims.
Adopting This Tradition
Have you given much thought to your wedding shoes? If not, then you should consider it. Adhere to these two traditions in order to give your wedding a more authentic Greek feel. Let your husband-to-be know that he is expected to buy the shoes and that you want money placed inside. You can even tell him which shoes to buy.
After that, your bridesmaids can write their names. They will have fun guessing which woman will get married first and which won't. You can even let your wedding guests know about this game and they may even have fun guessing. This is one of those customs that is fairly easy to adopt and is still done today in Greece.
Categorized in: Greek Wedding Traditions
This post was written by Greek Boston