How To Shop For Your Dream Wedding Dress
Written by Greek Boston in Greek Wedding Traditions Comments Off on How To Shop For Your Dream Wedding Dress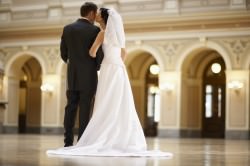 You want to look your best on your wedding day and to do that, you want to wear the perfect dress. The problem is that wedding dress shopping can be a frustrating experience. You may have an idea of what you want, but nothing so far is really grabbing your attention. Well, there's no need to stress any longer. With these tips, you'll be buying your dream wedding dress in no time.
Greek Orthodox Church Dress Code
If you are getting married in the Greek Orthodox Church this may also be a factor in selecting your wedding gown. When reading guidelines set forth by various churches, most ask that the bride and her attendants dress as modestly as they are comfortable with. In other words, out of respect for the church they don't want to see the bride or bridesmaids wear anything too revealing.
Setting a Budget
You can find beautiful wedding dresses at nearly any price range. To prevent yourself from getting attached to a gown that is a bit more than you would like to spend, it helps to set a budget and stick with it. This can help narrow your search considerably. Also don't be afraid to look for bargains if you are on a tight budget. You can find great dresses at very affordable prices.
Your Wedding Location
The first thing to consider is where your wedding will be taking place. Is it a destination wedding? What time of year is it? The time of day? These are all factors that will help you determine which dress to buy. For example, if you have a summer wedding you'll want a dress made of a lighter material.
Don't Procrastinate
Some people get lucky and find their ideal dress on the first outing. Others spend months searching for the perfect dress. Which bride will you be? Rather than take the chance, it is best to get an early start. This isn't something that can wait until the last minute.
Look Through Catalogs
Before you even start visiting the stores, browse through catalogs and websites so that you can get to know what kind of dress you want. If there are specific styles you want to try on, write down the model numbers and as many details as you can so you can find them locally and try them on. Getting to know the trends and your own personal style can really help you find the dress of your dreams.
Your Support Network
Don't go wedding dress shopping alone. You should bring at least two other people so you can have input as to which dress is best for your wedding. You'll want to make sure to bring along people you know will give an honest opinion.
Now that your wedding day is approaching you will need to focus on finding a dress. Just remember that if you are having a church wedding you won't want to choose anything too revealing. Otherwise, you are free to buy whichever gown suits you!
Categorized in: Greek Wedding Traditions
This post was written by Greek Boston