Planning Your Bachelorette Party
Written by Greek Boston in Greek Wedding Traditions Comments Off on Planning Your Bachelorette Party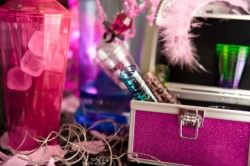 If you are a Greek getting married in the United States in the Greek Orthodox Church, you are bound to adopt some of the American traditions. One tradition that doesn't occur in Greece is the Bachelorette Party. This is the last night that the bride will be able to go out on the town with her friends before her wedding.
So, who should plan it? It is usually the responsibility of the Maid or Matron of Honor (Koumbara) to plan the bachelorette party. However, it isn't so uncommon for the other bridesmaids, friends, or even the bride to help plan it as well. When the bride is involved with the planning she can give her input as to the kind of outing that she wants.
Ask the Bride
Your very first step is to ask the bride what kind of Bachelorette Party she would like. For instance, if she wants a serene environment rather than the typical, loud parties that are typically held in clubs or bars, she may want to visit a spa. Or, if she would like to travel she may have a destination in mind. Sometimes, it can be fun to book a whole weekend. You can attend the spa by day and then go out at night.
Private Party
Having a private party in someone's home is a fun option especially if you have a lot of people you want to invite or if you don't enjoy the club scene. With a private party you have more control over how the evening will go. You can hire your own entertainment, control the guest list, and serve the food and beverages you really want.
Rent Transportation
It is no secret that people who attend Bachelorette Parties may drink a little too much. As part of the evening, it is a good idea to hire someone to transport you from place to place. This is especially useful if the bride would like to go clubbing or bar hopping. These types of bachelorette parties usually involve a lot of drinking and hiring transportation is a great way to keep everyone safe.
Destination Bachelorette Party
Some brides choose to turn their Bachelorette Party into a whole weekend. The type of mini-vacation chosen will depend on her personality. If she likes to relax and prefers serene environments, a weekend at a spa will do the trick. People who love a good party often go to a city like Miami, New York, or Las Vegas for their parties. There really is a vacation that will suit everyone.
Attend a Concert
If the bride loves music, consider attending a concert for the bachelorette party. If her favorite band is in town, for example, this is a great opportunity. Go out for dinner and drinks before or after the show to really make it an entertaining night.
Greek women getting married in the United States often adopt the practice of having a bachelorette party. Choose the type of party that will help the bride have the most fun. This is the bride's last night to spend time with her close friends before the wedding. So make the most of it and do something you will truly enjoy!
Categorized in: Greek Wedding Traditions
This post was written by Greek Boston