Planning a Summer Greek Wedding
Written by Greek Boston in Greek Wedding Traditions Comments Off on Planning a Summer Greek Wedding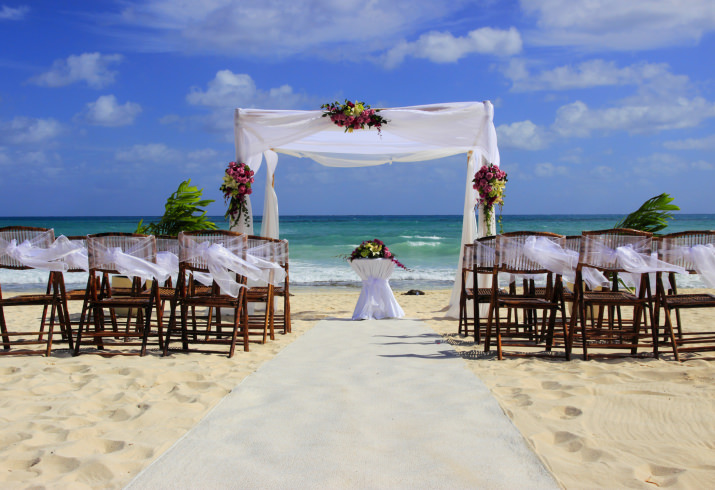 Are you planning a summer Greek wedding? There are certain things that need to get done no matter which time of year you get married. You'll need to secure the date, book the church and the reception hall, and take care of details such as wedding dress, flowers, and wedding cake. However, summer weddings require some additional preparations. Here are some ideas on things to consider if you are having a summer wedding.
Choosing a Wedding Dress
In most parts of the United States, it can get fairly hot during the summer months. Most brides purchase their wedding dresses well in advance. If you buy the dress in the winter, you may not be in the mindset to choose a dress that is appropriate for the weather.
Summer wedding dresses are lighter and slightly cooler than their winter counterparts. Ask the dress shop to show you summer wedding dress options before you make your final decision.
You Can Have An Outdoor Wedding
In the Greek Orthodox Church, it is very difficult to have an outdoor wedding because the ceremony needs to take place at a consecrated altar. Though outdoor consecrated altars exist, they can be hard to find. If your goal is to have an outdoor wedding, however, it may be worth the effort to research it.
You can, however, have a reception outdoors without a problem. Your options include finding a function hall that can accommodate an outdoor reception, hiring a caterer and choosing the outdoor location yourself, and finding an outdoor setting with a consecrated altar that can also support an outdoor reception.
Choose Lighter Color Schemes
Most brides choose colors that become the focal point of their wedding. In the summer, the colors need to be light and soft. Heavy colors, such as black and dark purple, don't seem to fit a summer wedding. Here are some color combination ideas.
Light blue and white. Not only are these great summer colors, but also the colors of the Greek flag.
Anything pink. All shades of pink are more than appropriate for a summer wedding. Use accent colors such as white or cream to compliment the pink shades.
Pastel colors. Pastel colors are also nice choices for wedding colors. White, yellow, and cream make nice accent colors for most pastels.
Make Allowances for the Heat
The risk of a summer wedding is that it could be extremely hot outside. Even if the wedding is indoors, heat is still a factor because people may congregate outside the church or reception venue. Also, since it is such a busy day, people often forget to stay hydrated.
Make sure that your guests have plenty of opportunities to find relief from the heat. Be sure that there is plenty of water to drink at the reception. Turn on the air conditioner in the church and in the function hall. If there is no air conditioning, make sure that there are fans so that cooler air can circulate. Finally, seek medical attention if anyone is feeling sick from the heat.
Use these strategies to help you successfully plan a summer Greek wedding.
Categorized in: Greek Wedding Traditions
This post was written by Greek Boston