Choosing Your Stefana – Greek Wedding Crowns
Written by Greek Boston in Greek Wedding Traditions Comments Off on Choosing Your Stefana – Greek Wedding Crowns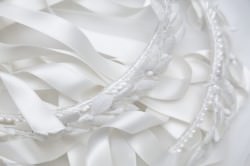 Through a great part of the Greek Orthodox wedding ceremony, the bride and groom wear twin crowns (stefana) joined by a string. This is all that the bride and groom are now the king and queen and of their own families. The stefana are completely in focus during The Crowning where they are exchanged three times while the priest offers a blessing.
After the wedding ceremony is over, the bride and groom often enclose the stefana in a beautiful glass case and hang it somewhere in the home, traditionally in the bedroom, as a reminder of the ceremony and what the crowns represent for the marriage.
What this tells us is that the stefana are important and need to be chosen with care. After all, they are a symbol of your promise to each other and that the marriage itself has been blessed by God. So, how do you go about choosing the right stefana for your ceremony?
Greek Wedding Crowns – Basic Designs
At its most basic, the stefana are simply two circular white crowns attached with a ribbon or string. If you are on a budget, you can either make them yourself or purchase a ready made set that contains a minimum of frills or design elements. Or, perhaps you have the money but still want to keep it simple. Remember that as long as they are properly constructed, it doesn't matter how fancy they are.
Custom Made Stefana
Another option you have is to have the stefana custom made. If you are unsure of where to go, you may want to start by asking within the Greek community in your local area. Or, you can search for someone online to make them for you. It is helpful to get a referral from someone you know, however, because it can help you find someone trustworthy and who is known for excellent craftsmanship.
Buying Pre-Made Stefana
A quick search online reveals plenty of options for buying stefana. For example, sites like Etsy.com feature a collection of handmade crafts from all over the world and there are plenty of stefana options on that site alone. There also may be stores in your local area, which will have a nice selection.
Making Your Own
Another option is that you can make your own crowns if you have the talent for it and want to save money. Traditional wedding crowns are normally white and include things like white flowers, pearls, and ribbons. Shop around for ideas and ask around your community to see if someone can explain to you how to do it. Also, you may be able to find instructions online as to how to do it.
The Crowning is an essential part of the Greek wedding ceremony. Not only that, but the bride and groom wear the crowns for a great part of the ceremony and often choose to display them in their home. Choosing the right crowns is very important. Luckily, it is possible to find beautiful wedding crowns for any budget.
Categorized in: Greek Wedding Traditions
This post was written by Greek Boston