Basics of Music Selection for Your Greek Wedding
Written by Greek Boston in Greek Wedding Traditions Comments Off on Basics of Music Selection for Your Greek Wedding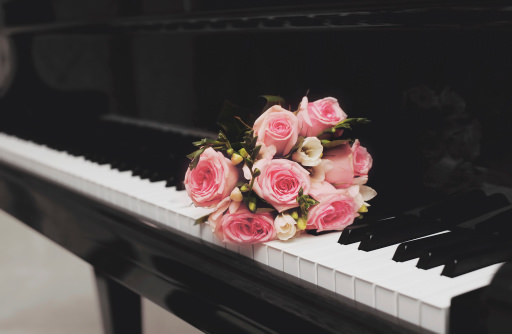 It doesn't matter if you hire a band or a DJ. If the music at your wedding is a crowd pleaser, your guests will have fun. Work with the band you hire or your DJ to make sure they play music that will please you, your future spouse, and your guests. For a Greek wedding, there are also some special songs that should make it on the playlist.
Remember that your guests may come from all corners of your life and may include more than just your Greek friends and relatives. So your music selection should contain a variety. Your guests will also come in all age groups which means that their musical tastes will span multiple generations.
Live Music or a DJ?
Before your Greek wedding, you will need to decide if you want to hire a live band or a DJ. For a band, your ultra-Greek relatives may want you to hire the local Greek band. Just keep in mind that if you do, you may miss out on some of the more customary hits that some of your guests may be expecting at the wedding. Ultimately, you will want a band or DJ who is versatile and can handle a range of requests.
Traditional Greek Dancing
Even if you don't want to include a lot of traditional Greek dances, it is essential for the wedding party to dance the Kalamatiano to Orea Pou Einai Nifi Mas. So, whomever you hire needs to either be able to play it live or have the song to play.
If they don't have that song, some DJ's will let you play your own copy. Most DJ's have a way for people to do this. Just check with him in advance to make sure. Also, it is a nice touch to make sure that he also has songs for other Greek dances in case guests want to dance to some traditional songs. Popular dances include the Syrto, Kalamatiano, Hasapiko, and the Tsamiko.
Cocktail Hour and Dinner Music
Most guests want mellower music for the cocktail hour and while eating dinner. They want to talk to fellow guests and enjoy their food and drinks. Light music such as soft rock, jazz, and classical music is perfect. You can hire a harpist or piano player for this event or have the DJ or band play something soft. Remember that the volume should be loud enough so the songs are recognizable but low enough to encourage conversation.
Music for the Dance Floor
Once the food is eaten and the wedding party has danced the Kalamatiano to the traditional song, it is time to hit the dance floor. For this portion of the evening, music that crosses several generations will be an instant hit. The DJ or band should play oldies and popular songs and should definitely take requests.
Line dances like the Electric Slide and the Cupid Shuffle are also instant crowd hits because it breaks the ice and encourages good dancing. You can also plan an occasional Greek pop song or traditional Greek song during this portion of the night to encourage even greater participation.
As you can see, music is an essential part of your wedding. The key to selecting music is to take into account a variety of factors. By offering a selection of music that spans multiple generations and also including popular and traditional Greek tunes, your guests will be sure to hit the dance floor.
Categorized in: Greek Wedding Traditions
This post was written by Greek Boston