Gift Ideas for a Greek Christening
Written by Greek Boston in Greek Christening Traditions Comments Off on Gift Ideas for a Greek Christening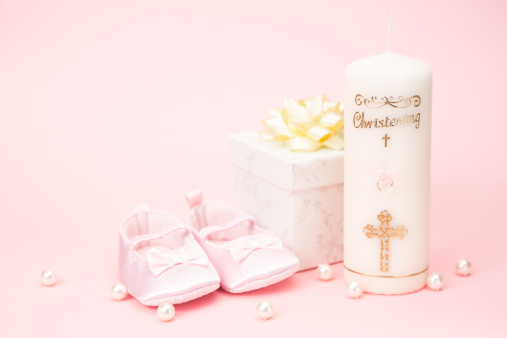 So, you've been invited to attend a Greek Orthodox Baptism. There is a reception afterwards and custom dictates that you purchase a gift. The problem is, you're at a loss. What is an acceptable gift for the newly Christened baby in the Orthodox Church?
Generally speaking, gifts for a Greek Christening are really no different than for any other Christening (such as a non-Orthodox one). There are no set rules. However, there are some gift ideas that are more popular than others. Here are some top choices.
Giving Money
Money is always very much appreciated as a Christening gift. You can either choose to give cash, write a check, or even a savings bond. The parents usually open up a savings account for the child and they start using it when they are old enough to appreciate it. If the parents are wise, the parents encourage the child to save it for when they leave the home after high school graduation.
Gifts for Baby
Standard baby gifts such as toys, blankets, clothes, and useful baby items are also welcomed gifts during a Christening. Some Greeks often choose not to have a baby shower (an older Greek tradition) but always bestow gifts after the baby is born. Any baby-related item is appropriate here.
Also, check if the couple registered anywhere and aim to get them a gift from their wish list. If they did have a shower, chances are they have a registry. You can see if there are any leftover gifts that no one gave them.
Gift Cards
These are a nice alternative to money or physical gifts. Basically, any gift card will be appreciated. You can get them a gift card from a baby store, an online seller like Amazon which has a nice selection of baby items, and a larger store like Target or Wal-Mart. The expectation here is that the parents will use the card on useful items for the new baby.
Religious Gifts
Another popular Christening gift idea is to get the baby something that has a religious significance. This can include a cross, Bible, or even an icon. There are books that are geared towards children, as well, and can also be a nice addition to any library. The goal here is to help the parents begin the child's religious education early on.
Simply Ask
Some parents are more than willing to offer ideas for Christening gifts. Perhaps the Godparents have given them more than enough religious items and they feel they want something else. Or, maybe the family is in dire need of baby supplies and can't afford them. It really can't hurt to ask.
If you are invited to attend a Greek Orthodox Baptism, you are in for a treat because it is   a beautiful experience. This is your chance to share in a beautiful moment with the newborn and the family. A gift shows your appreciation for being part of this special occasion. If you take the time to choose a wonderful gift, the family will be truly happy.
Categorized in: Greek Christening Traditions
This post was written by Greek Boston