Menu Ideas for a Greek Christening
Written by Greek Boston in Greek Christening Traditions Comments Off on Menu Ideas for a Greek Christening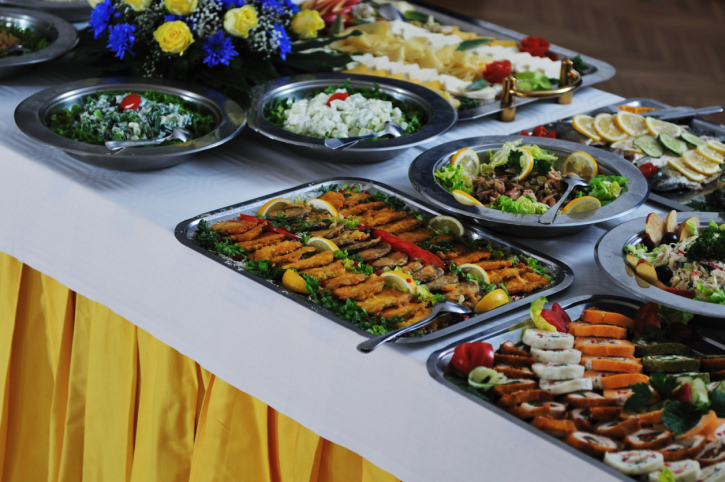 Even though it isn't necessary from a religious standpoint, having a reception after the Greek Orthodox Christening is fairly traditional. The reception is a way to share the beauty of the day with your guests. A big part of this celebration is to serve your guests a meal.
Will you serve traditional Greek foods or not? You have a choice whether or not you will serve traditional Greek dishes, foods outside of the Greek culture, or offer a spread that has some Greek dishes and some things from other cultures.
Here are some menu ideas that will help you plan the food portion of the Christening celebration. These suggestions apply no matter if the celebration is being held at a reception hall, at someone's home, or at a restaurant.
Buffet Style Reception
Buffet style meals are a popular choice because they give people total control over the foods they put on their plates. Not only that, but it gives people flexibility concerning when they eat. However, there are some foods that work for buffets better than others.
Generally, simple foods such as souvlaki, pastitso, spanakopita, tiropita, and salad are great choices. If you decide to serve foods outside of the Greek culture, simple meat dishes, vegetable dishes and lasagna are very good additions to a buffet.
Sit Down Meal
Sit down meals have a tendency to be a little fancier. Everyone eats at the same time. If the meal is served in a restaurant or a function hall, someone will likely serve you.
With a sit down meal, it is usually pre-organized. If you are holding it in a reception hall you may give people a choice between two or three dishes. If it is in a restaurant, you may allow people to order from the menu. Overall, anything goes with a sit down meal as long as the food that is served goes together.
Some ideas for traditional Greek meals include oven roasted lamb with potatoes and vegetables, souvlaki with rice and vegetables, and pastitso or moussaka. If you opt to serve foods that aren't of Greek origin, meat dishes with potato or vegetables, salad, fish, and pasta are all good choices.
Serving Dessert
Dessert is often looked at as the favorite part of the meal. People look forward to sampling the desserts because many people only indulge on special occasions. Here are some ideas for a great dessert spread.
Greek pastries. Traditional Greek pastries such as baklava, galatobouriko, or kourambiedes are popular choices.
Christening cake. You can also make a special cake or order a cake that commemorates the occasion. Often the name of the person who was baptized and the date of the baptism are written on the icing.
Other desserts. Other desserts such as pies and cookies can be served, as well.
Oftentimes the reception hall lets you bring in your own desserts. Otherwise, you may have a choice of only one or two dessert items.
Food is such an integral part of a reception that it is important to select the right items. No matter if you choose traditional Greek foods or not, people will be happy to help you celebrate.
Categorized in: Greek Christening Traditions
This post was written by Greek Boston