Ways to Save Money on the Christening Reception
Written by Greek Boston in Greek Christening Traditions Comments Off on Ways to Save Money on the Christening Reception
After the Greek Orthodox Christening it is fairly common for the parents to invite your guests to a reception following the ceremony. The problem is, these receptions can get expensive quickly. How can you prevent this from happening? The good news is there are strategies that can help you save money while still giving your guests a great party.
Set a Budget
Before you get started planning the reception, it is a good idea to set a budget. How much money are you able to spend? The amount of money you have will determine where the reception will be held. If you don't have a lot to spend, consider having it at your house. If you have a larger budget you may want to consider booking a function hall.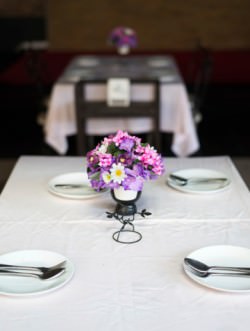 Size of Your Guest List
One way that you are able to save money on the reception is to minimize the guest list. Think about all the essential people you feel really must be there. Then, stick with it. If your guest list puts your reception over budget, cut the guest list down until it is a manageable size for your pocketbook.
Plan a Potluck
One way you can save money on the Christening reception is to arrange for the event to be potluck style. Make a list of all the foods you would like served at the reception. Then explain to your guests that it will be a potluck.
When they ask what they should bring, refer to your list. Keep in mind that this may affect whether or not your guests bring a gift. If they cook, they may not feel as if they need to bring a present.
Christening Favors on a Budget
Another way you can save money is through the Christening favors. Traditionally, giving your guests a small bag of Koufeta and the Martyrika (small cross with a ribbon) are the standard favors. If you're on a budget and can't afford both, prioritize the martyrika as the most important.
Rent a Less Expensive Hall
Some function halls cost more money than others. It is possible to rent out a function hall that doesn't have to put you over the budget. Check with your church, local clubs, and even local restaurants to find the most inexpensive option for your reception. Not all of these venues will include a meal so you will want to factor in a caterer or providing the food yourself when estimating how much it will cost.
Inexpensive Decorations
Another place you can save money is on the decorations. For example, you can use the centerpieces that the hall provides. You can also forgo decorating with fresh flowers, which can be expensive. Arrange for the decorations yourself and you will find that this can also save you money.
Keep in mind that it is typically up to the parents to plan and pay for the reception. However, if you are really strapped for cash, you can ask the godparents if they are willing to help. Otherwise, these strategies can help you save money.
Categorized in: Greek Christening Traditions
This post was written by Greek Boston