All About Greek Wine
Written by Greek Boston in Greek Cooking Comments Off on All About Greek Wine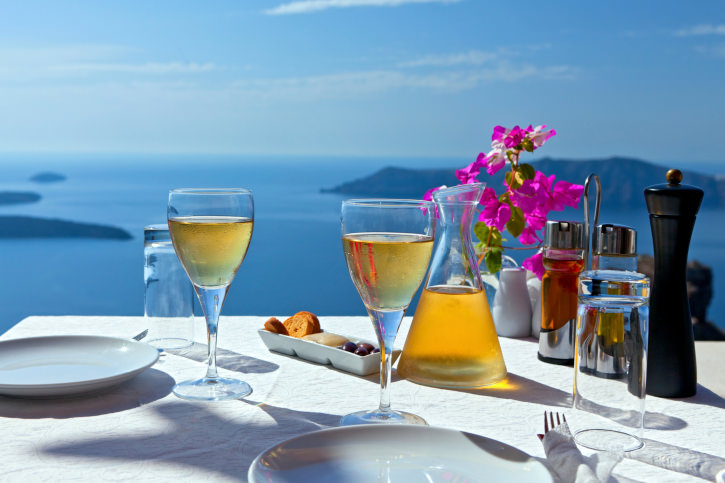 After spending a day shopping and sightseeing on your stay in Greece, you're looking forward to your meal at the restaurant overlooking the ocean. You find a table by the water, and the server asks if you'd like them to bring over a carafe of their house wine. As she brings it over, she informs you that it was produced in the family vineyard.
Somehow, that information makes the wine taste even better as you imagine that the wine in your glass as being part of an ancient tradition. It also provides the perfect compliment to your meal of freshly caught seafood and plenty of locally grown fruits and vegetables. You look around and realize nearly everyone at that restaurant is also enjoying wine with his or her food. It's a big part of the Greek way of life.
Brief History of Wine in Ancient Greece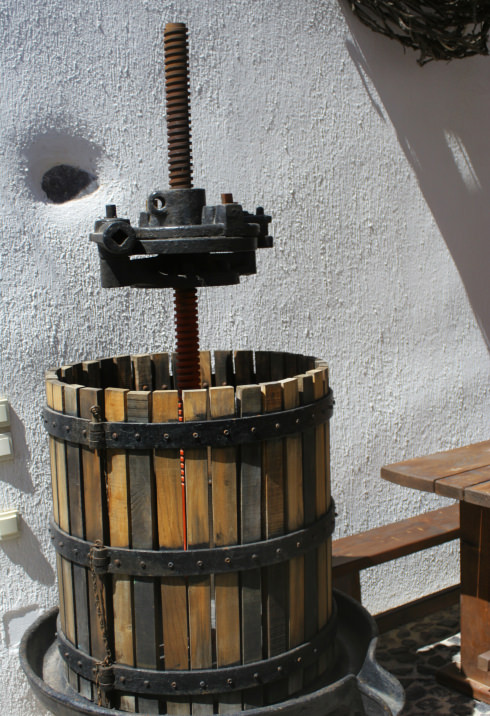 Wine has been an important part of Greek culture since the people started producing it nearly 6500 years ago. Although it's the Chinese that have been credited with first producing wine, the Greeks really elevated it to an art form. Starting with the Minoan Civilization on islands such as Crete, the Ancient Greeks pioneered new wine making and storage methods that would turn them into one of the premier wine producing areas in the world. Wine was so important that they worshipped Dionysius, the God of Wine, on a regular basis.
The Ancient Greeks saw the drink as more than just something to enjoy with their meals. It was praised for its nutritive and medicinal properties, as well. Healers regularly used wine as a medium for delivering their medicinal remedies. When people did drink it for enjoyment, they would always mix it with water. Drinking wine in its pure form was considered vulgar.
Enjoying Wine in Modern Greece
Today, wine is produced throughout the country. There are several major wine regions in Greece, and each produces wines that have their own character and charm.
Thrace – Not to be confused with the Thrace wine region of Turkey, these Greek winemakers are part of an ancient tradition that dates back to Homeric times.
Macedonia – This region has a turbulent history, but this didn't stop the wine producers! The Macedonian winemakers use modern practices for making their wine, and have achieved notoriety throughout the world.
Epirus – This region is very mountainous and the vineyards are a bit difficult to get to. Despite that, they produce some world-class wines!
Ionian Islands – This region, particularly in Cephalonia, is known for specializing in a "new style" of Greek wines that focus on the two local grapes, Tsaoussi and Robola.
Peloponnese – This is one of the most fertile regions in Greece, which makes it ideal for producing wine. One of Greece's most famous wines, Mavrodaphne, is produced here.
Sterea Ellada – This region includes Athens, Greece's largest city. Winemakers here grow a lot of the Savatiano grape, which is one of Greece's most popular wine grapes.
Aegean Islands – The Aegean Islands region includes the islands of Rhodes, Crete, and Santorini, who are particularly known for producing some of the finest wines in Greece.
No matter where you end up in Greece, you are sure to find locally produced wines. Not only that, but you can always visit some of the vineyards, as it's the best way to learn about the different wines that Greece has to offer. Check out our wine section for information about the individual Greek wines!
Categorized in: Greek Cooking
This post was written by Greek Boston
Share this Greek Cooking Article: