Unique Food and Drink to Try in Santorini
Written by Greek Boston in Greek Cooking Comments Off on Unique Food and Drink to Try in Santorini
Santorini is a beautiful island in the Greek Cyclades, famous for its white walls, blue and green waters and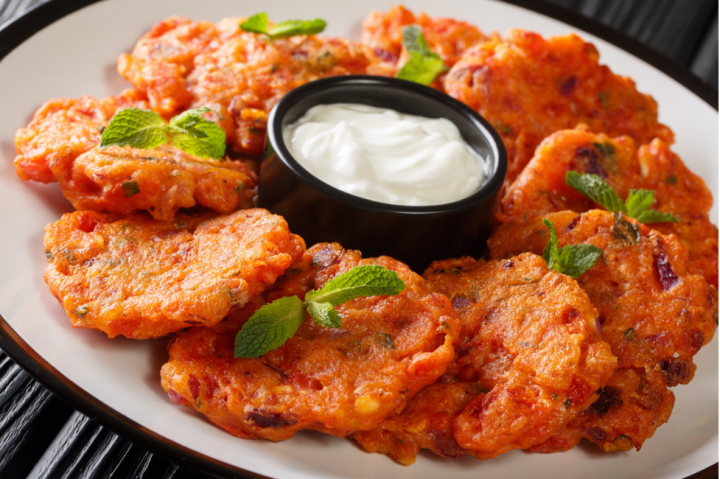 sand-swept beaches. It has also been called the 'Ferrari' of Greece because of its beautiful vistas within a small area with a rich history. One thing that Santorini is known for is food. Whether it's the fresh fish, incredible wine, or the very distinct vegetables that are grown in this region, food is a prime focus when visiting Santorini.
Domatokeftethes: Santorini Tomato Fritters
Santorini is the only region in Greece that offers a variation of the standard bread pancake. It is also the only place to find 'domatokeftedes.' These cakes are made with a mixture of tomatoes, peppers, onions, and garlic and are served as an appetizer. They are a must-try when visiting Santorini and practically symbolize Santorini's cuisine.
Roasted Greek-Style Lamb
Although lamb is common throughout Greece, it is prepared differently in Santorini and is considered one of the island's specialties. Typically, it is roasted Greek lamb, simply seasoned with salt and oregano, roasted until tender and served with potatoes. There's nothing quite like the roasting of this meat which gives it its unique taste; it's hard to replicate at home, so you'll have to go to Santorini to try this traditional and flavorful dish.
Freshly Caught Fish
One of Santorini's most famous dishes is fresh fish, a fresh catch from the Aegean Sea that has what fishermen call 'fletta,' or the local name for a red spot on the skin. It is believed to be due to either the cool water temperature, which makes fish more resistant to bacteria than normal or possibly because of some chemicals in the water. This rare delicacy must be eaten immediately, as it is cold (especially at night).
Red Donkey Beer
Red Donkey Beer is a unique drink that has the color of wine with a beer finish. The taste is rich yet crisp and light. It was created on the island of Santorini and required a special brewing process to achieve its unique taste, produced at the Red Donkey Brewery in Fira. The beer is made with a special combination of ambrosia and pinot, which results in a bright color, crisp taste, and a subtle wine finish.
Spanakopita – Spinach pie
Spanakopita, or spinach pie, is a Greek specialty that has become a worldwide favorite. It consists of a filo pastry filled with pureed spinach, feta cheese and seasonings. Its origins are unknown, but it was created sometime in the 19th century. When visiting Santorini, there is no better way to finish your meal than with this traditional and delicious dish. It is always served with a side of bread wrapped around the spanakopita and eaten by hand.
Santorini is known for its endless list of sights to see, all of which are guaranteed to leave a lasting impression. It is also known for traditional dishes like the ones listed above, which tourists and locals enjoy. Whether you are dining alone or with family and friends, these dishes will make you experience Santorini in a new way.
Categorized in: Greek Cooking
This post was written by Greek Boston
Share this Greek Cooking Article: