Greece Loses a Leader, Begins Battle with Germany
Written by Greek Boston in Modern Greek History Comments Off on Greece Loses a Leader, Begins Battle with Germany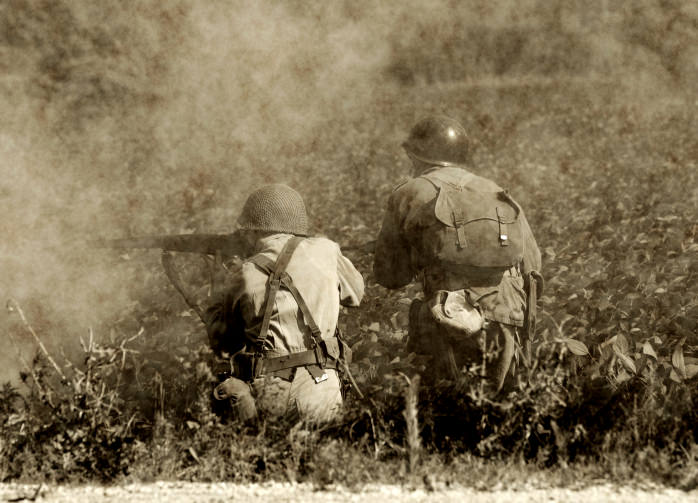 In the early hours of October 28, 1940, the Italian minister in Athens delivered an ultimatum to Greece's Prime Minister, Ioannnis Metaxas from the Italian Prime Minister, Benito Mussolini. The ultimatum demanded that Greece provide Italy with free passage through the country for the Italian troops to establish themselves at strategic locations inside Greece. Metaxas outright refused the ultimatum and within hours, Italian forces started to invade Greece entering from Albania, which Italy had taken control over a year prior.
Greece had no choice but to fight back, and deployed Greek troops on a counter-attack against Italy. During the ordeal, Metaxas was able to rally the Greek public in support of the war to not only push Italy out of Greece but also out of Albania as southern Albania was partially settled by the Greeks. Thanks to the public's support and the diligence of the Greek troops, Greece was able to push the Italian troops back into Albanian territory over in just a matter of days.
Metaxas Tries to Keep the Peace
Greece's leader Metaxas tried desperately to keep his country out of the throes of war. He stalled the war with Italy for two months after an Italian ship torpedoed a Greek submarine, claiming that it was "uncertain" who was responsible for the attack. Metaxas turned down assistance from Great Britain during the Greco-Italian war, for fear of ruffling Germany's feathers. While Britain did provide some air support as Greece was fighting the Italians, Metaxas declined an offer from Winston Churchill of Great Britain to provide allied troops for ground support.
With all of his hard work to keep Greece neutral, Metaxas never got to see the end result of his efforts as he died in Athens on January 29, 1941. Metaxas had developed an infection in his throat, which spread to a bacterial infection of his blood that was unfortunately incurable. Following his death, a successor was announced. Alexandros Koryzis, the governor of the Bank of Greece became Prime Minister and had separate intentions than Metaxas did regarding the war in Europe.
A New Leader, A New War
The Greek armed forces pushed Italy out of their country in just over a month. While Italy's attack began at the end of October 1940, by mid-December the Italians had been forced out of Greece and Greece then took over almost a quarter of Albania. Italy tried a counter-attack in March 1941 and again was successfully defeated by the Greeks. However, this time Koryzis began preparing for what he saw as an inevitable attack from Germany.
Koryzis reached out to Great Britain and a British expeditionary force (though mostly Australians and New Zealanders) joined Greek troops and began establishing lines of troops in the now Republic of Macedonia. Having heard that the Italians were unsuccessful in their attack against the Greeks in March, Germany officially launched their attack against the Greeks on April 6, 1941 by entering through Bulgaria and Yugoslavia with the goal of getting to Greece first before the Soviet Troops did.
Categorized in: Modern Greek History
This post was written by Greek Boston
Share this Greek History Article: