Recipe for Greek Style Smoked Trout Appetizer
Written by GreekBoston.com in Authentic Greek Food Recipes, Recipes for Popular Greek Appetizers - Mezedakia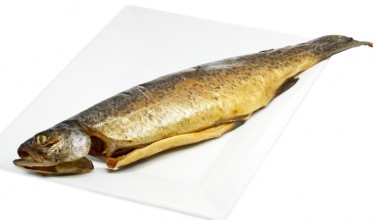 Fish dishes are very popular in coastal towns and island communities in Greece. This simple smoked trout appetizer requires no actual cooking, so it's perfect for easy entertaining.
Greek Style Smoked Trout Appetizer Recipe Ingredients:
4 smoked trout fillets
1/2 cup chopped chives
1/2 cup chopped dill
1/3 cup olive oil
Juice of (3-4 tablespoons) lemon
1/2 teaspoon mustard
Directions to Prepare Smoked Trout:
Place 2 trout fillets in a deep dish and sprinkle with half the chives and half the dill. Place the other 2 fillets on top, and sprinkle the rest of the dill and chives.
Mix the oil and lemon juice in a glass jar and add the mustard. Pour the sauce over the trout fillets, which should be half-covered by it. Cover the plate with plastic wrap and refrigerate for 2 to 3 hours, or overnight.
Serve at room temperature with thin slices of toasted bread.
Categorized in: Authentic Greek Food Recipes, Recipes for Popular Greek Appetizers - Mezedakia
This post was written by GreekBoston.com
Like this article? Please share below: