Recipe for Greek Style Cheese Tartlets
Written by Greek Boston in Authentic Greek Food Recipes, Greek Desserts Recipes Comments Off on Recipe for Greek Style Cheese Tartlets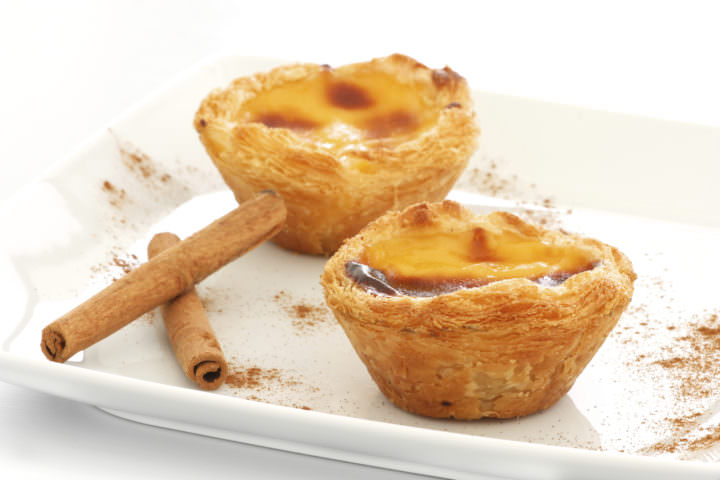 These tartlets are a specialty on the island of Santorini and are traditionally served at Easter. However, they're delicious all year long!
Greek Style Cheese Tartlets (Melitinia) Ingredients:

Pastry:
4 cups all-purpose flour
1/2 teaspoon salt
1 cup olive oil
1/2 cup water
Filling:
1 cup soft goat's cheese
4 ounces crumbled feta cheese
2 large eggs
1 cup granulated sugar
1/2 teaspoon baking powder
1 teaspoon vanilla extract
1/2 teaspoon powdered mastic or vanilla sugar
1/3 cup all-purpose flour
Cinnamon, for dusting
How to Bake Greek Cheese Tartlets:
Pastry:
Add the flour and salt to a sifter and sift into a medium bowl. Add the oil and mix with a hand-held pastry mixer, a fork, or your hands and mix until fine pebbles form. Slowly add the water and continue mixing until the dough forms into a ball. Form into a tighter ball with your fingers and wrap it snugly with plastic wrap. Gently flatten the ball with your palms to form a flat disk. Place in the refrigerator for about 1 hour before you make the pastry. The dough needs to be chilled so that you can easily work it.
Filling:
Start making the filling right a you are about to make the pastries. At this point, you'll want to preheat the oven to 375 degrees Fahrenheit.
Add the goat cheese, feta, eggs, granulated sugar, baking powder, vanilla extract, and mastic or vanilla sugar to a large bowl. Beat the ingredients together using an electric mixer that has been set on medium speed. Once the mixture is smooth, seat it aside.
Prepare the Pastry:
Spray three baking sheets with nonstick cooking spray or brush each of them with olive oil. Using a sharp knife, cut the dough into four equal pieces.
Lightly flour your work surface. Roll one of the dough pieces out flat using a pastry roller. Cover the other three pieces of dough with a towel while  you're doing this so that the dough doesn't dry out.
Using a 3 1/2 inch cookie cutter or the mouth of a large jar with the same diameter, cut the dough into shapes. Repeat this process with the rest of the dough.
Place 1 tablespoon of the filling into the center of each of the dough circles. Pinch the sides upwards to form a small tart shape. Put each tartlet on the baking sheets spaced about 1-inch apart. Place the sheet in the center of the oven and bake for about 35 minutes, or until the edges are crisp and the tops are a light golden brown color. Let cool for a few minutes on the countertop and store in the refrigerator if not eating right away. Garnish each tartlet with powdered cinnamon, if desired.
**Recommended cook times for GreekBoston.com Greek recipes vary depending on elevation, environmental conditions, the cookware being used, and the nature of the oven or stove. Although we have given approximations, these don't always take into account your unique environment.
PLEASE NOTE: Greek recipes can be slightly different based on a variety of reasons, such as the region of Greece that the recipe is being made in. If you have seen this Greek recipe made another way, please send us an email to greekboston@worldwidegreeks.com and we will evaluate your suggestion. Thanks!
Categorized in: Authentic Greek Food Recipes, Greek Desserts Recipes
This post was written by Greek Boston